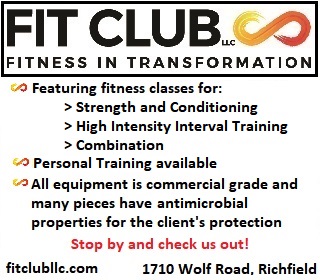 August 6, 2018 – Richfield, WI – Summer is here and there are some great testimonials coming in for Tina Schultz and Fit Club LLC.
Jessica Hathaway on August 2, 2018
"I have been a member of Fit Club for 3 months and I cannot express how life changing and wonderful my experience has been thus far. When I started Fit Club, I have not worked out in a couple of years and it showed. My primary goal for joining was weight loss and building strength so I can go back to running again. Tina, the owner, empowered me through motivation as well as sharing variations to exercises so that I could perform them and work my way up. I was glad that I could attend class with the other experienced members and not feel singled out due to my limited workout abilities. I also spoke to Tina about healthy eating habits and learned how to portion-control regular food (no special diets or shakes, etc) so that I could survive and eat in the "real world" while still losing weight.
The facility is very clean and tidy. It has all the amenities you could ever need – my favorite is being able to grab a Kashi bar from the "treat" basket on my way out. The workout stations are prepared for the members prior to coming in with any mats/bands/weights that are needed. Charity is the on-call RDN who is available to answer any questions about general health/diet, etc. When I went to Charity about the affects of Energy Drinks, I received a response the same day. She had sent me a variety of information on energy drinks from reputable medical sources and websites (as opposed to me hitting up random unknown internet sites had I researched it myself).
Tina is simply amazing. She watches everyone to be sure we are performing the exercises properly. If something seems too difficult, she offers a variation of the move. If something is too easy, she will challenge you to perform the next level of difficulty. She would also have me "try" things that I didn't think I could do, only to find out that she was right… no matter the skill level I'm at, she has a way about making me feel like a superstar during every workout.
Fast forward 3 months – I have now made so many friends at the Fit Club, my energy level has greatly increased, I am still LOVING the classes, I am able to perform advance exercise movements, I am eating NORMAL every-day foods (still portion-controlling) AND… I am down 25 pounds in doing so!! Tina and my Fit Club friends have really encouraged me to keep going. It took a team to change my behavior and eating habits and this place can offer that. I have since referred friends to Fit Club as I want them to have the same experience as me. I truly stand by Fit Club. I will be a member for a long time and I would highly recommend anyone and everyone to check it out!"
~ Jessica Hathaway
Cherie Osterberg on June 2, 2018
"No matter your current fitness level, Tina will modify the workouts to meet your needs. I started with the first free class after not working out for quite a while, and Tina made several modifications. After becoming a member, I found that I have increased my capabilities significantly. After a class, I feel great and I have way more energy for the rest of the day. The longer I work out, the more energy I have for any physical work that needs to be done! The club exceeded my expectations. The atmosphere is bright, uplifting, very clean and germ conscious. After speaking with Tina and seeing the club, it was obvious that she takes personal interest in her members/guests/visitors. The club is bright and clean, and the equipment is of very high quality. I have gained so much strength and confidence in such a short time. Tina continually adds new movements to keep challenging the clients. Seeing yourself go from not being able to do it to performing the movement with proper form builds a lot of confidence."
Cherie Osterberg on June 2, 2018
"No matter your current fitness level, Tina will modify the workouts to meet your needs. I started with the first free class after not working out for quite a while, and Tina made several modifications. After becoming a member, I found that I have increased my capabilities significantly. After a class, I feel great and I have way more energy for the rest of the day. The longer I work out, the more energy I have for any physical work that needs to be done! The club exceeded my expectations. The atmosphere is bright, uplifting, very clean and germ conscious. After speaking with Tina and seeing the club, it was obvious that she takes personal interest in her members/guests/visitors. The club is bright and clean, and the equipment is of very high quality. I have gained so much strength and confidence in such a short time. Tina continually adds new movements to keep challenging the clients. Seeing yourself go from not being able to do it to performing the movement with proper form builds a lot of confidence."
Lori Heidecker on May 29, 2018
"After joining Fit Club, in just two months I have seen significant changes to my energy, strength, and the fact that I am wearing clothes that have not fit in more than 5 years. I feel more comfortable wearing dresses to work, summer shorts and sleeveless shirts. I still walk at nights, although working out at Fit Club has added the perfect solution to keeping me fit and feeling younger! Plus, working with Tina is more fun and she likes to push you to always do more than you ever thought you could."