West Bend, WI – The Museum of Wisconsin Art will host its SPARK program on Tuesday, November 26.  The program, 10:30 a.m. – noon is "designed for people with memory loss and their caregivers, SPARK! is a free monthly program that engages participants in conversation about Wisconsin art. Each session includes a facilitated discussion about works of art in the galleries followed by time for coffee and mingling in the studio.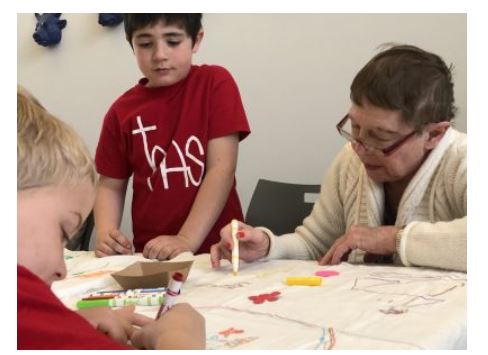 MOWA has been part of the regional SPARK! Alliance since 2009, thanks to seed support from the Helen Bader Foundation, and offers this program to highlight and promote self-expression and mental stimulation.
This month's program is an intergenerational learning session with a visit from the first grade class at Holy Angels School in West Bend. In tune with the holiday season, participants will assist budding artists with a festive art project.
SPARK! is a free monthly program at MOWA.
Below is a look at one of the SPARK memory care events at MOWA.
Registration is requested. Click HERE for details.