Statewide tornado drill postponed due to incoming storms
April 10, 2019 – Washington Co., WI – Wisconsin Emergency Management has cancelled today's statewide tornado drill because of the possible severe weather on Thursday, April 11.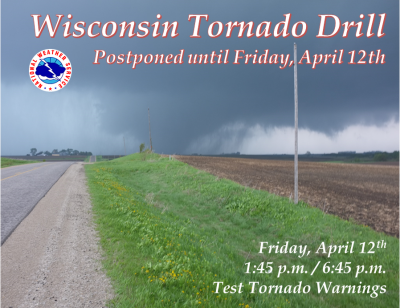 According to Emergency Management there could be severe thunderstorms, hail and possible tornadoes to the south.
The statewide tornado drill has been rescheduled for Friday, April 12.  The times for the mock drills on Friday will remain the same.
A mock tornado watch will be issued at 1 p.m., a mock tornado warning will be issued at 1:45 p.m. and at 6:45 p.m.
Emergency Management said, "We understand many schools, businesses, etc. have drills planned for tomorrow, April 11.  They are still welcome to hold the drill when they choose. Friday is expected to be quiet weather wise."
Signed Lori Getter
Crisis Communications Manager
WI Emergency Management