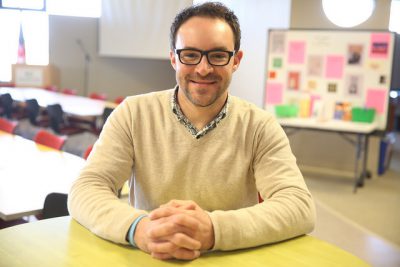 May 2, 2018 – West Bend, WI – Life is too short not to love what you do. That was the exact mindset that brought Joseph (Joey) Jaeger to Moraine Park Technical College in 2016. However, Jaeger's path didn't lead him directly to here. His plan out of high school was to earn his college degree and then one day take over his family's business, Performance Roofing Systems, Inc., in Richfield.
Jaeger graduated from Hartford Union High School in 2001 and then began his college career at the University of Wisconsin – Whitewater.
"I worked summer months with my dad, I looked forward to it," Jaeger said. "I was proud to be a part of the family business."
Jaeger also had a racing career. He raced on dirt tracks in communities such as Beaver Dam, Oshkosh, and Manitowoc.
"My dad has been an avid stock car driver since the 70's and worked as a roofer, so I was born into both," Jaeger said. "I can remember being around the age of six and climbing ladders with my dad and helping him with minuscule tasks, like holding the end of a tape measure."
In 2006, Jaeger graduated from the University of Wisconsin-Whitewater cum laude, with a bachelor's degree in urban planning and a minor in general business.
"I worked for my family's business until 2011, when I realized it wasn't something I was passionate about," Jaeger said. "It was a wonderful experience, I gained a lot of knowledge, and it supported my racing pastime, but it just wasn't for me."
After leaving the family business, he opened a single employee shop, buying junk cars, in the fall of 2011.
"As much as I enjoyed it, I knew this wasn't going to be a forever job," Jaeger said. "I considered it a transition time for me to find out what my real career aspirations were."
Jaeger then came to Moraine Park Technical College, where he took a personality test called Strengths Finder 2.0. This test is offered to the public for free through the Moraine Park Technical College Career Center. The results of his test suggested that Jaeger should focus on a career in healthcare, specifically nursing.
"Originally, I laughed at the thought of being a nurse. At the time I worked with cars and in construction," Jaeger said. "However, after talking with friends and family in the industry, it seemed that nursing would suit my personality and desire to care for people."
Jaeger is enrolled in the nursing program at Moraine Park Technical College at the West Bend Campus and is scheduled to graduate in May. After he passes his National Council Licensure Examination (NCLEX) board exam, he will earn his Registered Nursing license and become an RN.
"I have always wanted to help people in general," Jaeger said. "Let's face it, no one wants to be in a hospital, and I look forward to doing my best to care for people during some of their worst days."
Jaeger's time at Moraine Park Technical College may be coming to an end, but he has not taken his experience for granted.
"Moraine Park has been nothing short of wonderful," Jaeger said. "The instructors are amazing, each student is not just another number or face in the crowd. They really know us."
Jaeger wasn't just active in the classroom, he also took advantage of the many student life groups and events. He served as an active member of student senate, co-president of the Student Nursing Association (SNA) and an active volunteer across the campus. Jaeger is also Dean's List student, holding a GPA of 3.75.
"My experience has been wonderful here because I took advantage of the opportunities the College has to offer," Jaeger said. "I have gone on volunteer trips with the SNA to New York, New Orleans and will be going to Tennessee the end of April. There we will volunteer with Remote Area Medical to offer healthcare assistance to those who otherwise couldn't afford it."
Of course, this is just a glimpse of Jaegers involvement at Moraine Park and within his community. Faculty and staff rave about the type of person and student he is.
"Joey isn't just a great student, he is a great person," Kerry DeGroot, Moraine Park nursing instructor said. "The healthcare facility that hires him will benefit from his caring, compassionate and knowledgeable approach to nursing. I look forward to watching him grow in the field."
For this reason, and many more, Jaeger was named the Moraine Park Technical College 2018 Student of the Year.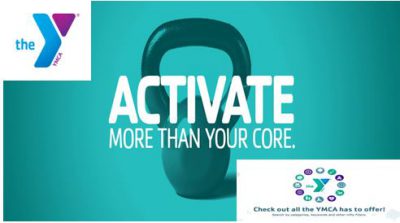 "I would say that being nominated for Student of the Year was my greatest achievement as a student," Jaeger said. "But, actually being selected as the 2018 Student of the Year is one of the biggest accomplishments of my life."
So what is the next step for Jaeger? Graduation on May 19!
"I plan on taking my boards by June 10, which is also my birthday," said Jaeger. "That way I can celebrate my birthday, graduation and passing my boards all at one time."
His ultimate goal is to work at a local hospital in the Emergency Department (ED).
"I love how fast paced the ED is and the teamwork atmosphere," Jaeger said. "I am more than willing to do what I can to positively impact people and strengthen the healthcare field."
Graduation day will be one of great pride for Jaeger, he has worked hard to get where he is and is excited to begin working in the field.
"In the end, all of the work, late nights, over-caffeinated study sessions and near-crying moments will be worth it," Jaeger said. "And, I look forward to the next chapter."
Criteria for Student of the Year nominations include demonstrating excellence in and out of the classroom while modeling Moraine Park's core abilities – to communicate clearly, act responsibly, work productively, think critically and creatively, adapt to change, demonstrate integrity and work cooperatively. Jaeger will be recognized during the College's annual Student Awards Banquet on May 11 and will be a guest speaker at the May 19 commencement ceremony.
To learn about all of the programs and opportunities available at Moraine Park, visit morainepark.edu/programs.