The Allenton Fire Department's George Moser Member of the Year award winner is Bruce Ellis | By Ron Naab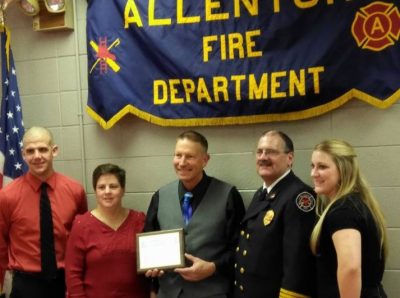 Feb. 20, 2018 – Allenton, WI – The Allenton Fire Department recognized Bruce Ellis with the George Moser Member of the Year award.
Bruce Ellis in center with left to right committee members Eric Latter, Sue Wolf, Bruce, Chief John Breuer and committee member Kim Mayer.
Ellis was involved in the late 1980's to early 1990's with the Bark Lake and later Richfield Fire Departments.
He joined Allenton four years ago after the rescue squad responded to an incident in which his grandson was injured in a lawnmower accident.
Ellis is dedicated to helping others and is a shining light as he volunteers for many events the AFD sponsors, including Special Valentines Day Cards from the kids at Allenton Elementary.