June 29, 2022 – Long day but making progress and working to find my groove. Highlights from Tuesday's 75-mile spin from Thiensville, WI to Zion, Illinois are below. Click on the link for the full story that includes the "The Cadillac House" and more pics at TheBikeWriter.com.
Left camp at 5:20 a.m. BTW the birds are up at 3:30 a.m.
Found a couple fabulous trails including the Oak Leaf Trail and Ozaukee County Interurban Trail. Both were well paved and helped to steer clear of busy traffic.
Heard an inspirational speaker once talk about how people slow down to see tragic situations but rarely slow down to appreciate the beauty in the world.
It was "The Cadillac House" that caught my eye….
CLICK HERE FOR THE REST OF THE STORY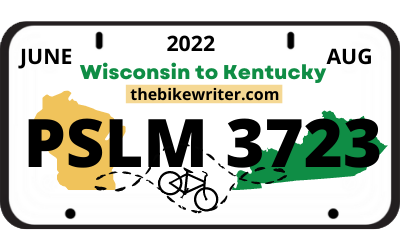 If the way that somebody lives pleases the Lord, the Lord will lead him into good things. Psalm 37:23 Easy English Bible
The 2022 Amazing Ride for Alzheimer's is raising money this year for music programming for seniors at Cedar Community, a 501c3, so all donations are tax-deductible. Donate via the secure website through Cedar Community.  Donations should be marked "Amazing Ride 2022." Click HERE to make a secure online donation. Checks may be made payable to "Cedar Community" with "Judy Bike Ride" in the memo line and mailed to 113 Cedar Ridge Dr., West Bend, WI 53095 Be sure to include the Federal Tax ID Number for the Foundation: 39-1249432 You may also find a downloadable donation form HERE. Cedar Community is a 501(c)3 not-for-profit organization, and donations are tax-deductible.