Jan. 27, 2019 – Washington County, WI – Valentine's Day 2019 will be the beginning of a journey Megan Pea and her husband, Matt, spurred by unconditional love and the willingness to open hearts and a forever home to a child through adoption. Dinner for Two and Piano Fondue "A Night For Love to Bloom and Grow", will be held on Valentine's Day, Feb. 14, at the Schauer Arts & Activities Center, 147 N. Rural St., Hartford, WI to help the Pea's offset expenses involved with the adoption process.
Here is their story:
Growing up in a family who fostered children and, through adoption, grew part of our family, adoption has always been near and dear to my heart. My younger sister, Tiara, was brought into our family through the foster care system when she was just four months old. At the time, my family had no idea that Tiara was going to be with us for more than a few weeks, but God had a different plan. Tiara ended up being with our family for over four years and eventually was adopted at the age of 12. While there were certainly challenging and heart wrenching days during our family's adoption journey, the joy and unconditional love that it brought to all of us has been immeasurable, and I thank God everyday for placing Tiara in our lives.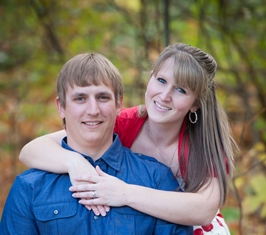 Matt had more of a traditional upbringing with his parents and younger brother. Even before we met, he had positive thoughts of adoption as a way to start a family. After we got to know each other he directly saw and experienced what a positive impact adoption had on my family, and the idea of growing a family and becoming a father through adoption really came to the forefront.
While the discussion of children casually came up while we were dating it, of course, became more of a hot topic after we were married. You see, Matt has always known that he wanted to be a father…and I know I'm a little biased, but he is seriously going to be the most amazing one! I, too, knew that I wanted children someday, but through early discussions it still seemed as if something was missing. Then, one night, we were out for a nice dinner and the discussion of children came up, as it typically would. This time was different, though. This time Matt asked me how I felt about growing our family through adoption.  There it was. My face and heart instantly lit up and the spark that I had been waiting for was suddenly ignited. It was almost as if my head finally caught up to what my heart was telling me all along. Adoption is how we were supposed to grow our family. This is the plan that God had for us all along, this is how our story continues and this is our family will grow.