Fredonia, WI – Tommy O'Schwai is prepping to serve his popular corned beef and cabbage sandwiches on St. Patrick's Day, Thursday, March 17 at Schwai's in Fredonia.
Tommy and Kathey will have heaps of juicy corned beef on buttered rye bread ready to go.
Tommy O'Schwai has been celebrating St. Patty's since he can remember…. "I was 16 years old and it was the first time I got drunk," said Tommy. "Bruce Weninger came home from the service and he kept buying old fashioneds and I kept drinking them. Yup…. it was a rough day at school the next day."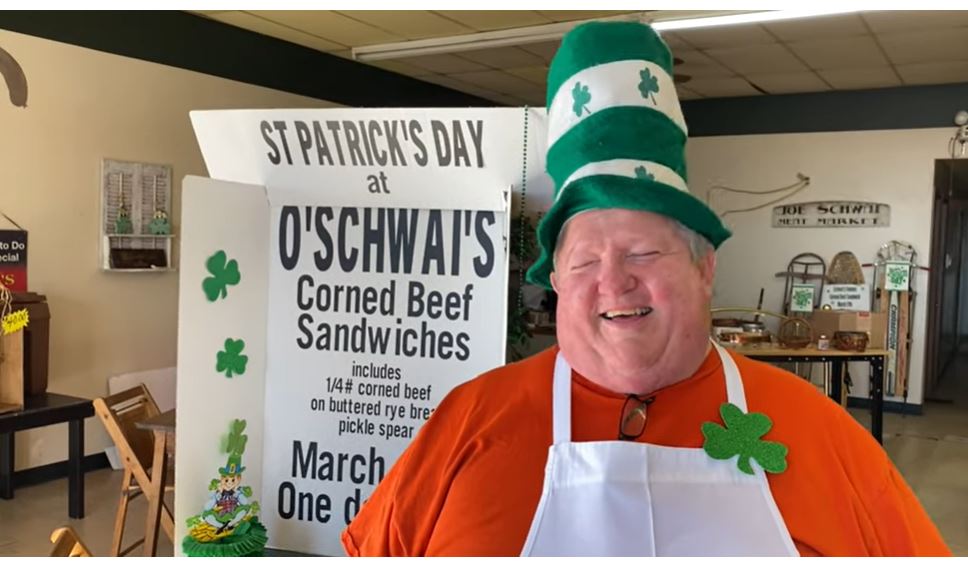 Tommy remembers the dancing at the old Schwai's in Cedar Creek; currently Bibingers. "The floor would bounce there would be so many people dancing," said Tom. "You couldn't fall over if you wanted to we were packed so tight with people."
"We had some really good parties, went through a lot of half barrels and gave a lot of money to Threshold," he said.
"Marvin Stuffel came down and I think it was one of their pigs we dyed green. For every pitcher of beer we sold we gave $1 to Threshold and we served 500 pounds of corned beef that day. Cookin' it in kettles."
"You had every Tom, Dick and Harry out there. You had Tom Rolfs and all the Zieglers, you had Chuck Hense come and get drunk, you had Bernie and Brad Benz; a lot of people, a lot of regulars."
"The Tiddlywinks was my ma's thing. My dad didn't want to and he was mad but when he found out how much money she made he wanted to do another one right away."
"Many a drunks went out of there. They were drinking Lithia and Old Timers…. that was some good stuff. We had ham sandwiches and brats. It was a long day but it sure was fun!"
If you want more of the local celebrity Tom Schwai – CLICK HERE for his famous tour of the new Fleet Farm in West Bend.