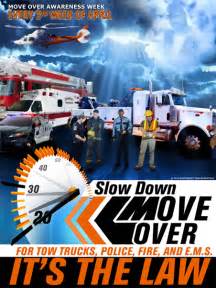 July 10, 2017 – West Bend, WI – One week after the American Towman Spirit Ride passed through West Bend led by Bob's Main Street Auto & Towing promoting public awareness of the Slow Down, Move Over law, Spirit Ride President Steve Calitri is calling for states to mandate protection of towers and other first responders working on the highways.
"State Highway Patrol will stop to safeguard the work scene when they can," said Calitri, "but the times they are not there can have fatal consequences. They understand as much as anyone how dangerous it is out there. Sometimes a state trooper is struck by a passing vehicle. They may need more resources to be there consistently. The people who can give them those resources need to consider the critical work tow operators do and the dangers surrounding them."
The Spirit Ride is relaying a ceremonial casket from car carrier to car carrier across the nation paying tribute to fallen first responders while carrying the message, Slow Down, Move Over – hundreds are casualties of errant passing vehicles each year; about 100 are fatalities and 60% of them are tow operators.
The Ride will pass through 2,000 municipalities and involve 4,000 tow companies now through 2018.
Calitri said that more motorists need to learn to slow down and move over one lane when passing emergency vehicles with flashing lights on the roadside. Calitri went on to say that American highways would shut down if tow truck operators were not there to keep the roads cleared after accidents and breakdowns. "Let first responders work safely," he said. "Let them make it home at night."