July 22, 2019 – Washington County, WI – A 50-year-old Town of Wayne woman was arrested for OWI causing injury after she overdosed on heroin and/or prescription medication while driving and crashed on US 45 at Pleasant Valley Road in the Town of Polk.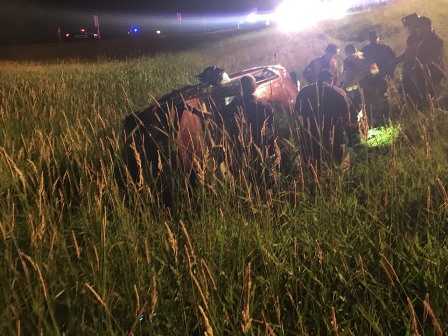 The accident occurred Sunday evening, July 21 at 11:03 p.m. as the driver became lethargic behind the wheel.
The investigation revealed the driver and passenger, a 35-year-old Village of Slinger man, both had recently done heroin and/or other drugs before the crash.
The man instructed the female to exit on Pleasant Valley Road when he noticed she could no longer control the vehicle and then went unresponsive.
The man could not get the female to take her foot off the accelerator, and he also could not steer the car back onto the on ramp of Hwy 45. The car went through the intersection at highway speeds and flipped into the ditch.
Emergency responders administered Narcan as the female stopped breathing. She was transported to Froedtert by Flight for Life and arrested for OWI first offense and OWI causing minor injuries to the passenger.
This is just one example of five OWI arrests Washignton County Deputies made this weekend.