Two finalists in superintendent search at Hartford
March 21, 2019 – Hartford, WI – There will be a candidate forum tonight, March 21 in Hartford regarding the finalists for superintendent.
Ronald Russ and Jeffrey Walters are the two finalists for HUHS Superintendent position.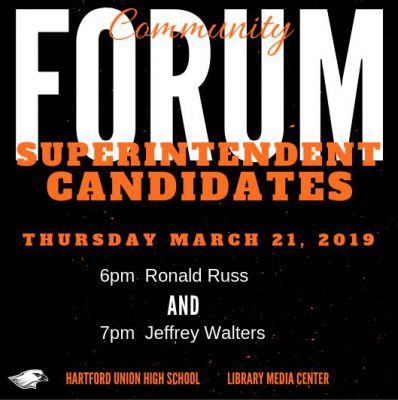 Click HERE to review the resumes of Russ and Walters.
The community forum gets underway at 6 p.m. at the HUHS library media center.
Approximately 40 candidates applied for the position. Nine candidates were interviewed by the Board and four semi-finalists were selected for second-round interviews in closed session on Tuesday, March 19, 2019.
Two candidates from the four semi-finalists will participate in:
Sessions with the District Leadership Team
School District community forums (including students, staff, parents, residents, etc.);

 

Final interviews with the Board.
There will be an opportunity for attendees to submit feedback on each of the finalists. The Board will then review all feedback at the end of the evening, as part of the decision-making process.
A record check shows Walters signed the Walker Recall and Russ did not.
Hartford Union High School District (HUHS) Superintendent, Attila J. Weninger, Ph.D., will retire his position effective June 30, 2019.   The HUHS Board of Education accepted and approved his letter of resignation/retirement at its Regular Monday, September 17, 2018 Board meeting.