Two people injured after vehicle goes over embankment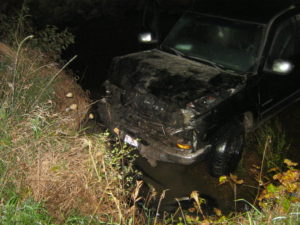 The Washington County Sheriff's Office, along with the Kohlsville and Kewaskum Fire Departments, responded to the area of Ridge Road and Highland Drive in the Town of Barton on Sunday morning at 4:41 a.m. for a report of a motor vehicle accident involving personal injury.
The initial report was a vehicle went over an embankment and came to rest in a creek injuring both occupants.  Dispatch was notified of the accident when the passenger, identified as a 21-year-old Town of Trenton man, called 911 indicating he had a head injury and the driver had fled the scene on foot.
Since the extent of the suspected driver's  injuries were not known, Sheriff's Deputies and  volunteer fire department personnel spent a significant amount of time searching the immediate area without success.
At approximately 11:24 a.m., Sheriff Deputies made contact with the driver, identified as a 20-year-old City of West Bend man, at St. Joseph's Froedtert Hospital. After medical clearance at the hospital, he was transported to the Washington County Jail where he remains in custody on a probation hold.