Two players from UWM at Washington County named to WCC all-tournament team | By Debbie Butschlick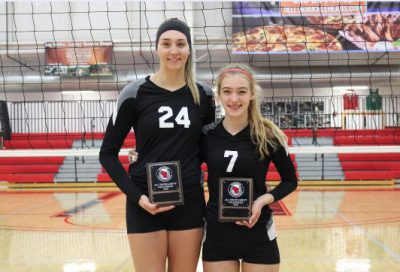 Oct. 31, 2018 – Washington Co., WI – The UWM at Washington County Volleyball team placed two players on the Wisconsin Collegiate Conference All-Tournament Volleyball team played at Just a Game in Wisconsin Dells.
Kayla Boehm and Breanna Cronin were selected by coaches as being the two top players throughout the tournament and selected to a team of six outstanding players.
Boehm connected on 38 kills and 11 blocks for the seven-match tournament.  Her best game was in the semi-final match against Eau Claire at Barron where Boehm had 8 kills and 4 block.
Cronin played a steady seven-match tournament as well.
She recorded 43 kills, 12 ace serves and 57 digs for her tournament play.
Cronin's best match was against UWM at Waukesha where she had 10 kills, 2 ace serves and 7 digs.
The coaches really recognized the outstanding play these two student athletes had for the WCC Tournament.
Photo:  Kayla Boehm, Breanna Cronin