UPDATE: 3-Year-Old Ejected in Dodge County Crash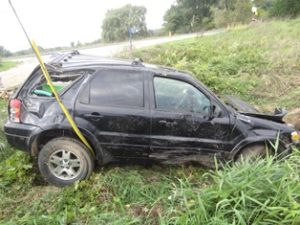 UPDATED 9/24/2016:  The 32-year-old Horicon woman who crashed on the side of a Dodge County road while her 3-year-old daughter was in the SUV claims she swerved to avoid a turkey in the road. That's what Noelle Deehr told Sheriff's deputies after Thursday's accident. Her daughter was thrown from the vehicle and ended up at Children's Hospital with broken bones and a lacerated liver. Deehr was charged Friday for her 2nd drunken driving injury accident with a child in the vehicle. Bond was set at $10,000 cash.
On Thursday afternoon, at approximately 2:46 pm, the Dodge County Sheriff's Office responded to a single motor vehicle crash on Town Road MM West of Jefferson Road in the Township of Ashippun.
Preliminary investigation shows that Noelle E Deehr, 32, of Horicon, was westbound on Town Road MM in a 2005 Ford SUV. Deehr lost control of the vehicle causing the vehicle to enter the south ditch striking a steep embankment and a utility pole. A 3-year-old was ejected from the vehicle causing serious but non-life threatening injuries. The child was flown from the scene by Flight For Life to Children's Hospital. Deehr was uninjured but alcohol appears to be a contributing factor in the crash.
Assisting at the scene was Ashippun Fire Department, Ashippun First Responders, Lebanon EMS, Watertown EMS and Flight For Life.
The crash remains under investigation by the Dodge County Crash Investigation Team.