UW-WC improves to 2-0 following win over Silver Lake College | By Debbie Butschlick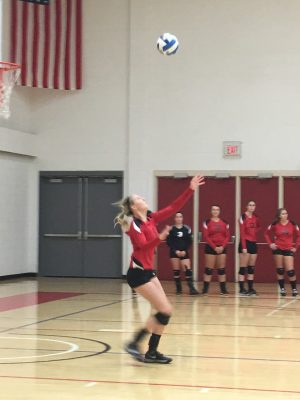 Sept. 12, 2017 – Washington Co., WI – The UW-Washington County volleyball team secured a second match win against Silver Lake College 25 – 20, 25-21, 25-16.
The teams serving consistency was greatly improved from the match last week.  Errors were greatly decreased to 8 with 11 ace serves.
Every game the team is learning and players are gaining confidence.  Silver Lake was a very hard-hitting team which helped the Wildcats to stay in constant motion.
Meghan MacFarlane led the team with 12 kills out of 20 attempts and nine digs.
Ally Weix led the team with six ace serves and eight kills.
Kayla Schommer led the team with 52 attempts, three ace serves and 39 assists for kills.
Catherine Tucker had 19 digs for a team high.
UW-WC's next match will be Wednesday, Sept. 13 at UW-Fond du Lac with a 6 p.m. start time.  This will be the start of the WCC Eastern Division Conference.
UW-WC is 2 – 0 overall.