December 10, 2019 – Washington Co., WI – UWM at Washington County's golf coach John Minz has been named Wisconsin Collegiate Conference Coach of the Year by his fellow coaches.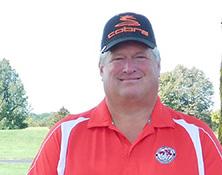 Minz started his career at UWM at Washington County in 2015. During his five-year tenure, Minz helped lead his golf teams to five trophies including: 2015 & 2019 Wisconsin Collegiate Conference State Champions, and 2016, 2017 & 2018 Wisconsin Collegiate Conference State Runner ups.
As a coach Minz placed 14 players on the Wisconsin Collegiate Conference All-Conference teams over the past five years. Four out of the five years UWM-Washington County has had the Medalist of the Year (2015-Tim Pridemore, 2016 – Adam Butler, 2017 – Kevin Albrecht and 2019 – Antonio Feciskonin).
Also in five years of coaching, Minz had eight WCC First Team All-Conference and six WCC Second Team All-Conference players. This is the second time Minz has won this honor; he was also Coach of the Year in 2015.