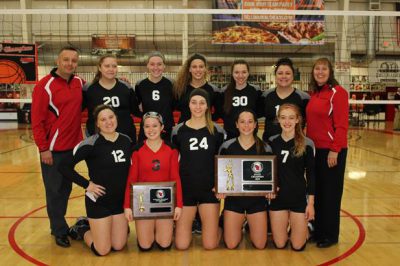 Oct. 22, 2018 – Washington Co., WI – The weekend was a whirlwind adventure for the UWM at Washington County Wildcat volleyball team.
The Wildcats came together for a two day Wisconsin Collegiate Conference State Tournament at JustAgame Fieldhouse in the Wisconsin Dells to win 10 straight games against five different opponents.
The competition was difficult, and together the Wildcats persevered.
As a team the Wildcats worked very hard.  The semifinal match was against UW-Eau Claire -Barron.
The Wildcats won 25 – 13, 20 – 25, 15 – 3 to advance to the final match.
The championship game was against UW-Green Bay at Marinette.
The Wildcats focused on fundamentals and communication.  The team worked together to cover hitters and make smart plays.
The Wildcats had a lot of good serves and kept energy up, winning both sets 25 – 17, 25 – 16 and ending the season undefeated.
Leading the team were Kayla Boehm with 37 kills and 14 blocks, Breanna Cronin with 27 kills, 12 ace serves and 46 digs, Morgan Kappler with 24 kills, 10 ace serves and 40 digs, Paige Airaudi with 21 kills, 10 ace serves and 34 digs, Kayla Schommer with 85 assists for kills, 20 ace serves, 6 kills, and Catherine Tucker with 84 digs, and 5 ace serves.
Pool Play Matches:
                Washington        25           25
Manitowoc         10           7
               Washington        25           25
Waukesha           10           12
                Washington        25           25
Rock                      4              9
                Washington        25           25
Marathon            12           15
                Washington        25           25
Marshfield          9              4