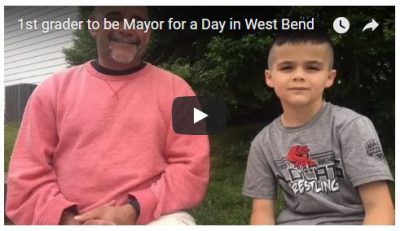 June 3, 2018 – West Bend, WI – On Monday, June 4 there's going to be a new Mayor in West Bend as 7-year-old Carson Pizzino is dubbed 'Mayor for the Day.'
Carson's dad Tony bid on the honor during an ice cream social. "He paid $110," said Carson.
"I would have gone higher," said Tony. "I've very proud of my son. He never gets into trouble, he gets good grades, he's compassionate and considerate of others, he's respectful and I just thought he deserved a little recognition and I just wanted to show him off a little bit."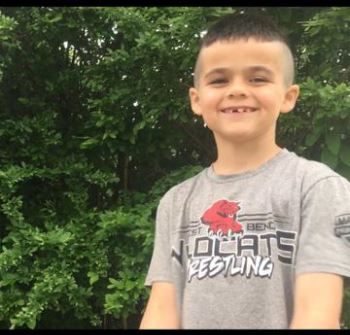 Carson is confident for a first grader. He love sports. He has a table full of wrestling trophies and he's a big Brewer fan.
At 2:30 p.m. on Monday the real mayor of West Bend, Kraig Sadownikow, will make an appearance at Carson's school.
Carson said he plans on greeting the mayor with a firm handshake. He said he would like to "pass a law that people get everything free for a day."
When asked what he thought the mayor did Carson said "he is the boss, he makes up laws, and I don't know any more right now so we'll reopen the discussion tomorrow."
Watch for Carson who will be wearing a new shirt for the occasion on Monday; he has yet to pick out a tie.
On July 20 Carson will  be representing the Mayor at Movie in the Park at Regner Park.