Sept. 15, 2017 – West Bend, WI – One man was taken by ambulance from the scene of a single-vehicle accident on Friday morning just outside PNC Bank on the northeast corner of Paradise and S. Main Street in West Bend.
Police on scene had no comment as this was an open investigation however officials said the vehicle was on fire when they arrived.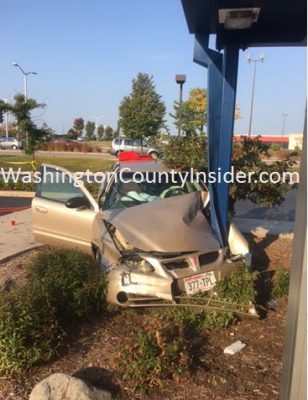 On Friday Sept. 15 2017, at 7:53 a.m., a 38-year-old male was driving eastbound on W. Paradise Dr. As he approached S. Main St. he drove left, crossed over the median, entered the westbound traffic lane, and struck a vehicle that was stopped for a red traffic light at S. Main and Paradise Dr.
After striking the car, the 38-year-old male continued eastbound, left the roadway, drove across the sidewalk on the east side of S. Main St., drove into the PNC Bank parking lot, and struck a steel support beam for the PNC Bank building. 
The driver of the striking vehicle suffered a back injury and was treated at St. Joseph's Hospital. The driver of the vehicle that was struck was a 20-year-old male. He was not injured in the crash. There were four employees in the PNC Bank at the time of the crash. None of them were injured. 

The West Bend Police Department is continuing to investigate. At this time the 38-year-old male has not been charged or issued any citations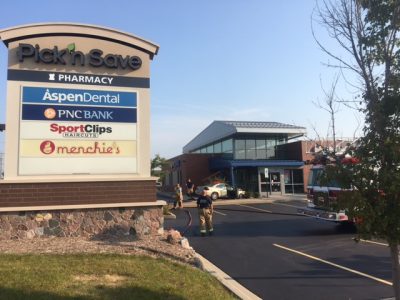 The airbag on the driver's side of the vehicle had deployed. The front windshield was smashed.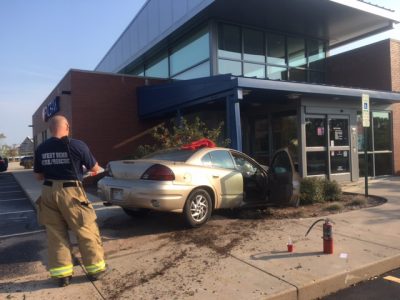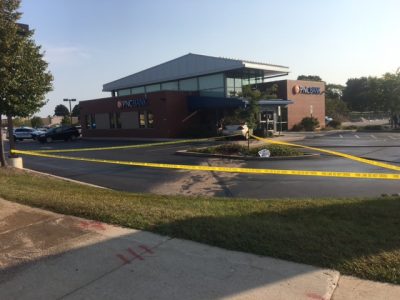 Courtesy note to Chris Merkel.