VIDEO | Clearing land for the new Fleet Farm in West Bend

Oct. 26, 2018 – West Bend, WI – The logging trucks are clearing the 192,000-square-foot lot to the south of Highway 33 just east of County Highway Z for the new Fleet Farm.
On Thursday a tree-cutting operation quickly moved through the property cutting trees and leveling the land for future development.
Howard Immel Inc from Green Bay is the Construction Manager.
Start date is listed as Oct 1, 2018.
Completion is listed as September 9, 2019.
192,000-square-foot retail store
7,100-square-foot convenience store
652 parking stalls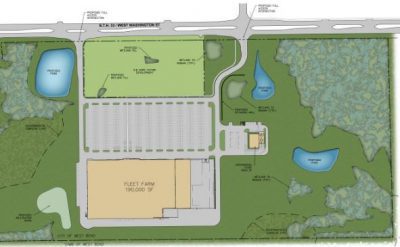 Aside from the store there will also be a 7,162-square-foot gas station and convenience store. The proposed gas station would include 18 fuel pumps and 9 islands.
Once complete, customers can expect to experience a completely new store design that incorporates the best from 60 years of building Fleet Farm stores. This new store layout is easy-to-shop, allows customers to interact with the product and highlights the breadth and depth of our merchandise.
The newly designed interior will feature an expanded product assortment including apparel and accessories for women, men and kids, an extensive pet care line, select pantry items and snacks, toys and sporting goods and home items. In addition, the West Bend Fleet Farm is focused on convenience and will offer automotive services, including oil changes and tire rotations and a gas station.
"Fleet Farm has been rooted in the West Bend community since 1961 and this new store will allow us to showcase our full assortment of products and services," said Fleet Farm's Vice President of Real Estate and Construction, Tom Carrico. "We are so proud to be reinvesting in West Bend."
Fleet Farm opened the existing West Bend store in 1961 as the sixth store in the company's fleet. The existing 45,000-square-foot West Bend Fleet Farm will close when the new store celebrates its grand opening in the Fall of 2019.
ABOUT FLEET FARM 
Fleet Farm has served hardworking Midwestern families since 1955, offering a unique mix of high-quality, value-priced merchandise and services for active, outdoor, suburban and farm communities. Customers can find fishing, hunting and outdoor products, auto parts, farm and pet supplies, home improvement and household goods, clothing and footwear, toys and food, plus services like gas, car wash and auto repair. Fleet Farm has 40 stores located across the Midwest. The company's headquartersis in Appleton, Wisconsin. For more information, visit www.fleetfarm.com.