Feb. 10, 2019 – Fond du Lac, WI –  Opening weekend of the 2019 sturgeon spearing season on the Winnebago System is now complete.  There were 108 fish harvested today, Sunday, Feb. 10, with 56 coming from Lake Winnebago and 52 from the Upriver Lakes.

The two-day harvest total from Lake Winnebago was 153 fish, which is very similar to opening weekend during the 2016 and 2018 seasons where 147 and 139 fish were registered.  The two-day harvest total from the Upriver Lakes was 182 fish.
Of the 52 fish harvested from the Upriver Lakes today, 17 were adult females bringing the season total to 55 adult females, 57.9% of the cap. We are 40 adult females away from the adult female cap and 31 adult females away from the 90% trigger.
At this point, I am predicting the Upriver Lakes season to close later in the week, likely Thursday or Friday.  A detailed report of the number of fish harvested at each station can be viewed through the link:
The largest fish harvested today was 148.3 pounds (77.1") and registered at Critter's by Michael Bohow.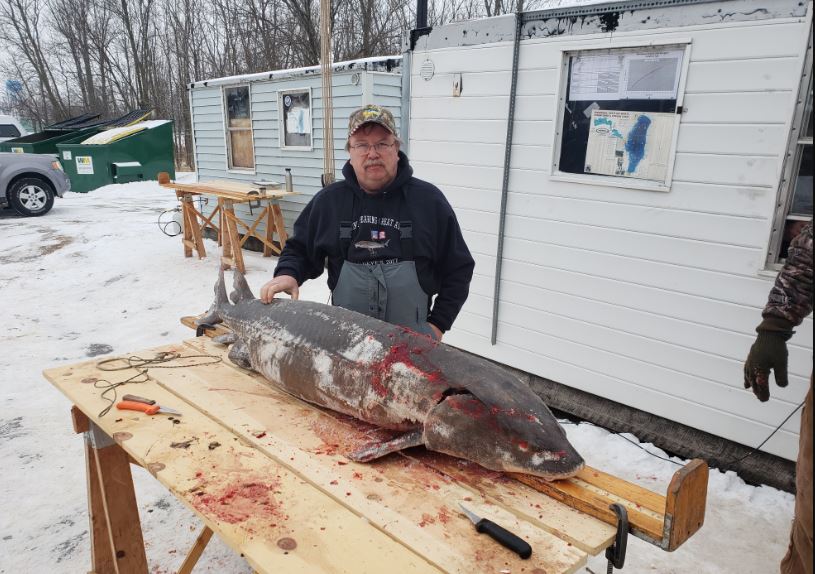 The largest fish harvested from Lake Winnebago was 124.7 pounds (69.1") and registered at Calumet Harbor by Michael Popp of Fond du Lac (link to photo below).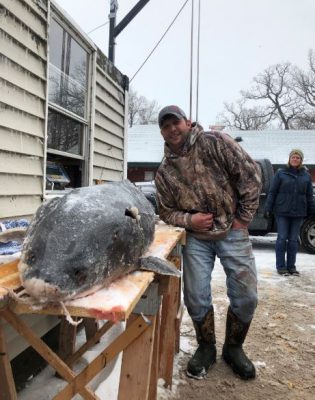 I'm hoping to get a vignette out either later today or tomorrow about the large fish that have been showing up in recent spear harvests and spring spawning stock assessments, so stay tuned! Until then, good luck during the remainder of the season!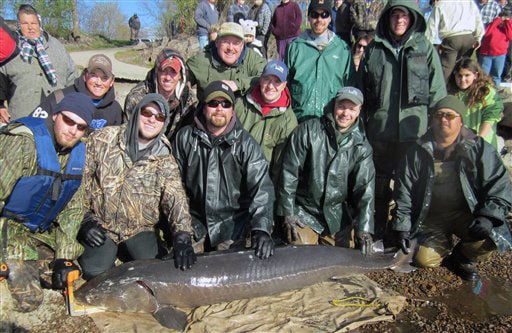 The largest sturgeon so far looks to be the monster above (photo courtesy wiscnews.com) that was tagged by the DNR below the Shawano Dam in April 2012. A portion of the story below is from the Shawano Leader.
Officials found the 7-foot-3-inch long, 240-pound female sturgeon in the Wolf River near Shawano on Tuesday, said DNR sturgeon biologist Ron Bruch. He estimated the fish was born around 1887, when Grover Cleveland was president.
He said the fish is the largest tagged and released in the Lake Winnebago system since the state started the tagging program, which is aimed at keeping tabs on their population, in 1950s.
The fish, which the state released back into the river after it was tagged, was also the largest ever captured in the state. The previous record — a sturgeon weighing 212.2 pounds and 84.2 inches long — was set in 2010 during the sturgeon spearing season.  Click HERE to read the rest of the story.
Click HERE for Day 1 sturgeon report and the 171-pound sturgeon, the largest so far this spearing season.