March 4, 2019 – West Bend, WI – Cafe Floriana, 611 Veterans Ave Suite 104, in West Bend is open!  Actually the grand opening is 6 a.m. so give Sara and Kat a bit of time to load the bakery case and brew a fresh pot of Stone Creek Coffee.
The new bakery/coffee shop is on the first level of Cast Iron Luxury Living, formerly home to the West Bend Company. It's on the east side of the Milwaukee River and located on the retail level of the apartment complex.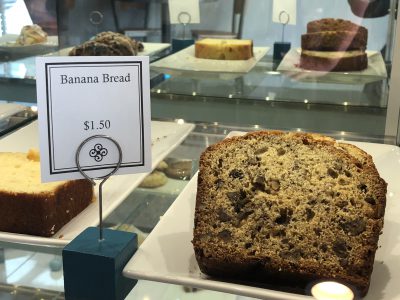 The sisters rolled out a variety of homemade goodness over the weekend during their soft opening.  Selections included frosted cinnamon rolls, nutty banana bread, scones and muffins.
Drinks feature coffee, nitro coffee, teas, and smoothies.
Sisters Katherine Schenk and Sara Young have a secret weapon on their staff. Click the video below to hear about how the cafe is helping their dad during his recovery from illness.
Socializing with customers has been key.  Be sure to stay 'Hi' when you stop and visit.
Be sure to check out the homemade bagel bites with cream cheese.