May 5, 2018 – West Bend, WI – The final numbers are in from the 2018 Tailgate Tour in West Bend benefiting The Threshold, Inc.
According to Executive Director Laura Eggert The Threshold raised $82,766.51.
"We exceeded our goal of $65,000," said Eggert.  "Everyone involved is thrilled about the outcome and extremely complimentary of our work in making this a successful event."
Eggert credits the support from V.I.P. Sponsors and others who donated their time, talent and treasure. "Of course, the Packer fans came out in droves to support our cause as well.  We were very pleased with the turnout, despite the not-so-nice weather," she said.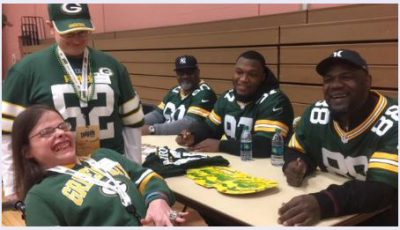 Money from the event will be used to enhance current and new programming at The Threshold, Inc.
As of March 1, The Threshold, Inc. took over operation of the 1022 Club in Hartford, which offers respite for families caring for loved ones who may be frail elderly, have Alzheimer's or Dementia.
"We also started an after-hours social program for adults with disabilities, which takes place within our community as well as throughout our state," said Eggert.  "Currently, we are working on launching an after-hours Youth Mentor program, which provides young people time for socialization with their peers and offers many educational activities."
Reviews for the Tailgate Tour were fabulous.  "Everyone we spoke with said they had a great time, things ran very smoothly, they thoroughly enjoyed the activities and were very excited to meet the Packer players and President/CEO Mark Murphy up-close," Eggert said.
The Threshold and the people with disabilities whom we serve are grateful for the support of this wonderful community!  Thanks to everyone who contributed to our mission of "Creating Opportunities for People with Disabilities!"
 Click HERE for highlights.