VIDEO | Tree dedication in Hartford in memory of 8-year-old Logan Johnson
April 20, 2019 – Hartford, WI – The noon siren sounded in Hartford and that marked the start of a gathering at Independence Park for the dedication of a tree in memory of Logan Johnson.
The 8-year-old Johnson died from heart disease in 2017.
The Hartford Soccer Club has planted several trees at Independence Park to honor the memory of players whose lives have ended too young.
Rev. David La Plante from St. Kilian Parish and Mark Chappel, President of Hartford Soccer Club, led the ceremony.
A group of about 25 people gathered dressed in royal blue Logan's Laps for Love t-shirts. "In this celebration today of new life, we bless this tree which honors Logan," said Rev. La Plante. "The roots of faith are always planted in hope, the hope of all creation and newness of life. Let this holy ground be a place of blessing an peace as we place our trust in You."
Following the blessing members of the Johnson family took turns pouring water on the tree.
The tree dedication is as an outward remembrance for those missed and to remind everyone to enjoy life and "get out there and play."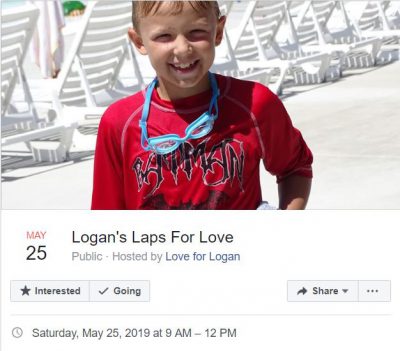 The second annual Logan's Laps for Love is Saturday, May 25.
The event includes a 5K run/walk with children's races for those age 10 and under. Registration begins at 8 a.m. with Jazzercise warm ups prior to race start of 9 a.m.
The event also includes bounce houses, games, auction items, and food for purchase. The Hartford Fire and Police Departments will be present for a "Touch the Truck" experience for kids of all ages!
All registered participants will receive a swim pass to the Veteran's Memorial Aquatic Center (aka the Hartford outdoor pool) good for the day of the event after 12 p.m.
Click HERE for more details.