June 1, 2019 – West Bend, WI – The east side of the Riverwalk in Downtown West Bend looks nearly complete as grass and trees have been planted.
The Riverwalk has been under construction since the summer of 2018.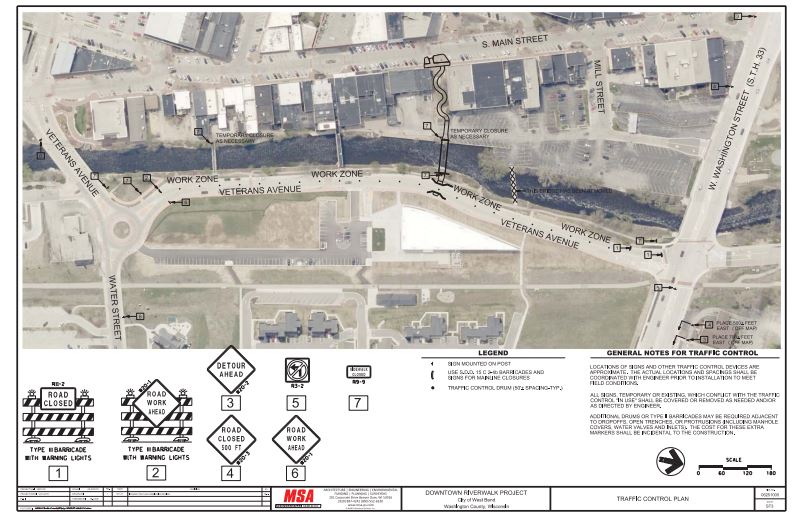 Feb. 5, 2018 – West Bend, WI – The City of West Bend is moving forward with construction of the Downtown Riverwalk project on the east side of the Milwaukee River.  The $2 million project is being funded with a combination of grants from the Department of Natural Resources, funds from the City of West Bend and donations from private foundations and businesses.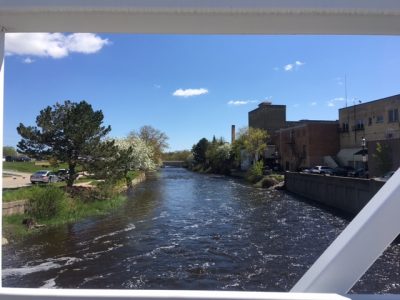 "This is a very unique public / private project," said Mayor Kraig Sadownikow.  "It is awesome to see several businesses and community foundations rise to the occasion to assist the city with the Riverwalk.  This project will be an important part of the downtown fabric for years to come."
The downtown portion of the Riverwalk, located between Washington Street and Water Street is overdue for a total renovation. Originally constructed in the early 1980's the Downtown Riverwalk is part of a popular multi-use trail that spans the city.  Reconstruction of the Downtown portion on the east bank of the river includes removal and replacement of existing retaining walls, addition of new walkways, plazas, stairs to the river for direct water access, a new pedestrian bridge, and new seating and lighting.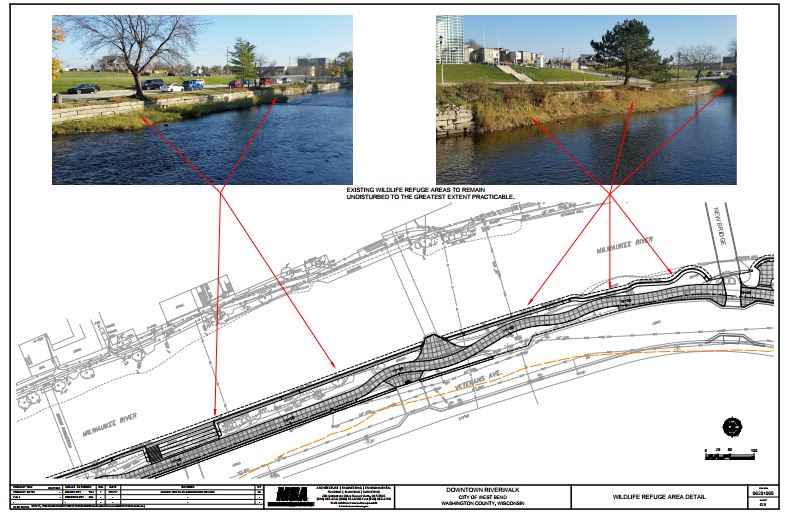 West Bend Mutual Insurance Company Charitable Fund, West Bend Economic Development Corporation, West Bend Business Improvement District, Serigraph, the Ziegler Family Foundation, the Johnson Family Bus Foundation, We Energies, Walmart and Roots & Branches have all contributed funding towards the project.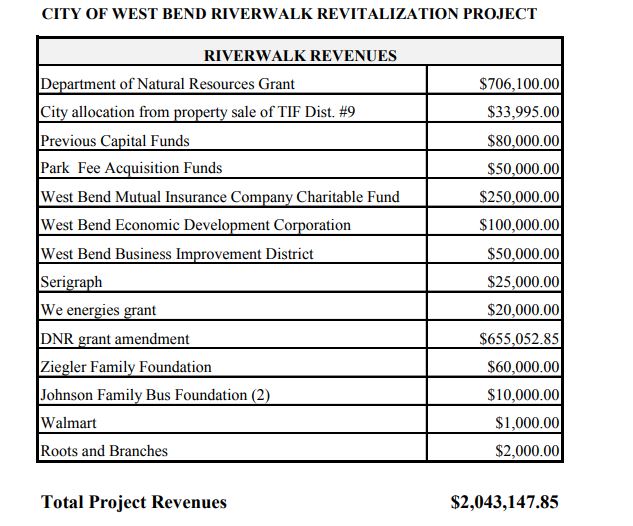 The City of West Bend has had restoration of this cherished amenity as one of their goals for many years. "The Riverwalk improvements will enhance tourism and economic development opportunities for our entire city," said City Administrator Jay Shambeau.
"This is an exciting time for the downtown area with the pending Museum of Wisconsin Art Cultural Campus project, proposed Brewery apartment complex and our thriving Main Street businesses."