August 8, 2017 – West Bend, WI – The West Bend Common Council led its Monday night meeting with high praise and recognition for the West Bend West High School baseball team which won the WIAA State Championship and finished the season with a record of 33 – 0.
"More important than the scoreboard is how they won their games," said Mayor Kraig Sadownikow. "They represented themselves and their school and their families and this community with integrity and a humble manner that is well beyond their years."
Spartans coach Billy Albrecht introduced a portion of the team in attendance and provided a list of some of the accolades and achievements.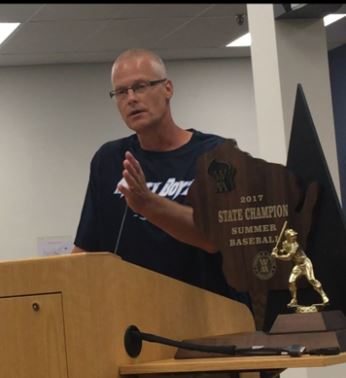 -Three of the seniors on the team got a Division I scholarship to play baseball at college.  "Pretty amazing that in a town our size can put out players that can go to the top level of college baseball," said Albrecht.
-"We had eight players on our team make All Conference and we had four of our guys Evan Albrecht, Jack Thelen, Anthony Schlass and Nathan Burns named first team All State.
-Evan Albrecht and Anthony Schlass were co-Players of the Year in the Wisconsin Little Ten Conference.
-Anthony Schlass was named Player of the Year for the entire state of Wisconsin in summer baseball.
-Schlass was also named the Player of the Year in the entire state for all high schools spring and summer baseball.
-Schlass also won the Dick Falk High School Player of the Year award.
-"I'd like to thank West Bend for its awesome support. I've coached a lot of teams and obviously the wins here are special but the way they went about it is more special to me and I appreciate you (the council) honoring them," said coach Billy Albrecht.