VIDEO | West Bend Common Council votes to raise taxes in 2020
November 11, 2019 – West Bend, WI – The West Bend Common Council voted 5-3 Monday night to increase the mill rate to $7.85 per thousand dollars. That's 6 cents per thousand more than 2019 and will raise taxes on residents whether their property increased in value or remained the same.
Those voting in favor of the increase were aldermen John Butschlick, Mark Allen, Steve Hoogester, Justice Madl, and Roger Kist.
Those voting against were aldermen Andrew Chevalier, Chris Jenkins, and Rich Kasten.
Prior to the final vote there was a public hearing on the matter.
The only person who spoke during the public hearing on the proposed 2020 operating budget was West Bend Police Chief Ken Meuler.
"We've worked through a lot of changes including the effects of Act 10, the recession, cuts to the budget and reductions in employee compensation," said Meuler.  "The City has made strides in reducing debt and increasing the City's reserve. But this budget and previous budgets in recent years have not addressed the long-term capital improvement needs and employee compensation issues."
Following Meuler's statement the public hearing was closed and Dist. 2 alderman Mark Allen proposed the original budget mill rate of $7.85 per thousand "instead of using carry-over funds to provide a temporary relief to taxpayers in the City."
Dist. 1 alderman John Butschlick followed with a second on the motion.
Dist. 7 alderman Justice Madl read from a prepared statement.
Dist. 5 alderman Rich Kasten made an effort to argue the point that there was no need to increase taxes as the money being discussed was already available in the 2020 budget. Earlier Kasten, who is chairman of the West Bend Finance Committee, sent alderman an explanation in writing.
On Monday, October 21, 2019, the Common Council engaged in a discussion with regards to the 2020 budget and whether to increase the Mill Rate by 6 cents per thousand or to cover the needed funds from 2019 carry-over. The overall dollars that are being discussed equal $151,100.

To clarify any confusion amongst the Council, the $151,100 are not net new dollars – these are dollars that are already used to fund the entire city operating budget; the decision before us is how to pay for it. Neither option discussed on October 21 change the overall spend in the budget. Currently, the balanced budget number is fixed at $24,246,478 and conforms to Wisconsin Expenditure Restraint constraints.

The options that are before us are the following (in no particular order):

Raise the mill rate 6 cents per thousand ($7.85). This will raise taxes on residents whether their property increased in value or remained the same.
Keep the mill rate as is ($7.79) and use carry-over and/or general fund balance to fund the $151,100. This will not raise taxes on residents if their property did not increase in value.

Both options will obviously result in a tax increase to residents if their property increased in value. The overall tax levy on the citizens of West Bend is up over 2019 in accordance with the overall growth in the city. Neither option above adds $151,100 to the budget for additional spending.
Chief Meuler jumped back in the budget discussion. "There are some expenses that come out that we can't budget every penny for and so that money is used, and has been in the past … we are asking that we use that to offset some of the capital projects that will save money in the future because that's money we won't have to borrow for to buy something … that's money that's there," he said. "So it does save some money … it is being respent on items that we've been asking for for years that the more we put off are getting more expensive to replace."
In the end the council voted 5-3 in favor of a 6-cent increase per thousand in the mill rate which will equal a tax bump in 2020.
After the meeting Kasten asked if the $151,100 from the 6-cent increase could be used for road repair. He said it would most likely go to crack filling but no major road work could be completed with that small amount of money.
On a side note: In September 2019 there was a vote to increase the city sewer rate by 2 percent rate of return which equals an average bump of $5.73 per quarter per household or an additional $23 a year.
The proposed water rate increase was 9.5 percent, which would equal an estimated $4.96 a quarter per average household or about an extra $20 a year. That increase still needs to be approved by the Public Service Commission. That information is likely in the second quarter of 2020.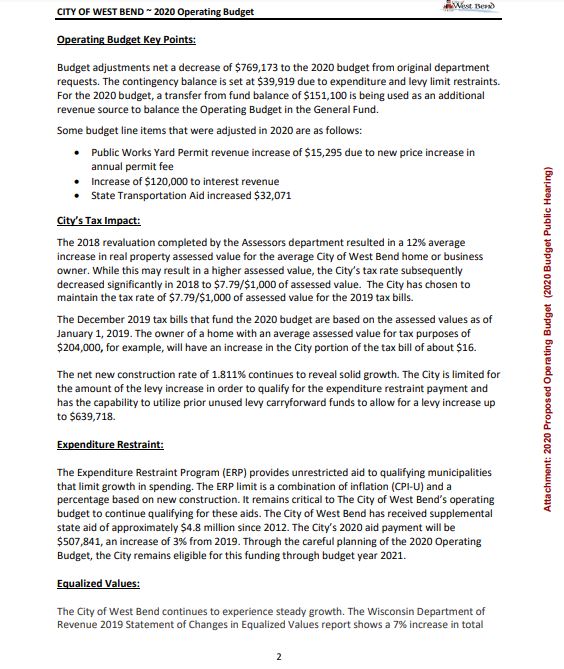 Click HERE to look at the complete operating budget for the City of West Bend in 2020.