VIDEO | Vietnam veteran Ken Werner of Hartford on May 11 Honor Flight | By Samantha Sali
May 11, 2019 – Hartford, WI – Vietnam veteran Kenneth 'Ken' Werner, 70, of Hartford, is heading to Washington D.C. on the May 11 Stars and Stripes Honor Flight.
Werner and his four siblings were raised in Hartford by his parents, Herbert, who worked in the plumbing and heating business, and Gertrude, a homemaker who is still alive today.
Werner attended Hartford Union High School where he participated in extracurricular activities, including football. An old yearbook shows a young Werner running with the ball, captioned, "Ken Werner, All Conference on defense, showed his running prowess and his new method of holding the ball in the 34-0 win against Columbus."
Werner graduated in 1967 and in 1968 he was drafted, "After I was drafted by the Army, my friends and I listed in the Marine Corps, said Werner. "Not sure why we did and two of my friends listed in the marine core. Not sure why we did."
After enlisting, Werner was sent to Basic Training in San Diego, "The Marine Corps boot camp is very intense," he said. "It was quite a shock. They are pretty hard on you and it was a real character builder. "
After Basic, Werner was sent to Infantry Training. After graduating, he came home for 30 days before being shipped out to Vietnam, "I was in the 12th Marines Regiment, Artillery," Werner said. "I was stationed in Dong Ha as a truck driver."
During our conversation, Werner thought of a humorous moment he wanted to share, "Our Motor Pool was situated next to an Army camp. We had a pit in the ground for truck oil and we needed a drain. The Army had a lot more stuff than the Marines did, so one night we crawled over the fence and they had these long metal tubes that ordinances came in. Basically we stole a bunch of them from the Army, welded them together, and made our own pipeline."
Not long after Werner arrived in Vietnam, President Nixon started withdrawing troops, "Our troop was one of the first because we were one of the first there, so we were withdrawn October 1969. We left on a ship and sailed to Okinawa," he shared.
After Werner arrived home, he went to work for his uncle's business, Schnorenberg's Floor Covering for a while before quitting. "I traveled a bit and then started school at UW-WC for two years. Then I worked for three years before transferring to UW-Madison," Werner said. "After school, I worked for Lied's Nursery in Sussex."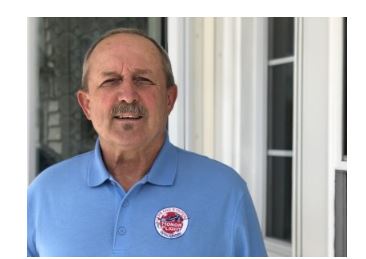 In 1988, Werner and his friends went to a wildlife banquet and after, they stopped at a tavern for a nightcap. There, he met his wife Cheryl. "It was love at first sight," Werner said. "We were going together for nine months and I married her on New Years Eve."
While Werner just retired last year, he keeps himself busy with gardening, fishing, and deer hunting. He and his wife also do a lot of repurposing, specifically antiques. This summer, he and his wife plan on just seeing what retirement life is like and just enjoy life together.
Werner and his wife have a 25-year-old daughter, Sarah, who will be Werner's guardian on the flight. Sarah works in Milwaukee as a Media Coordinator for Catholic Charities. "The main reason I want to go on this flight is to take my daughter and have her experience this trip, meet the veterans, and hopefully she'll have a better understanding of the wars and the sacrifices that were made," Werner said. "And of course, just to go to honor those who gave their lives."
Click HERE to read more about veterans from Washington County on the Stars & Stripes Honor Flight.
Photo Credit: HUHS Yearbook, 1967