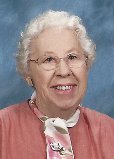 Long time West Bend Town Treasurer dies: Audrey K. (Nehm) Wagner, a life-long resident of the Town of West Bend, died January 5 at the age of 92 at Cedar Community, West Bend.
She was born January 15, 1923, to the late Hugo and Elizabeth (Fischer) Nehm. On April 4, 1945, She married the late Roman M. Wagner at St. Matthias Church, Nabob, where they remained life-long parishioners, and where she was an active member of the parish Christian Women's Group.
The couple operated a dairy farm together in the town for more than four decades. Known for her integrity and fiscal acumen, Audrey was asked to complete the West Bend Town Treasurer position vacated by the death of the elected official in 1973.
She was subsequently re-elected until 1985, when she decided to retire from public office.
She is survived by five children: Ann (James Penn), Fort Myers, Fla.; Jean (Carroll) Merry, Germantown; Carl, West Bend; Lee, West Bend; and Helen (Robert) Trudeau, West Bend. She is further survived by five grandchildren: Jeffrey (Maria) Rash, Castle Rock, Colo.; Scott (Cindy) Rash, Elgin, Ill.; Jennifer (Peter) Marx, Kewaskum; Michael Trudeau, Chicago, Ill.; and Christopher Trudeau, Milwaukee; two step granddaughters: JaNelle Merry, Shiocton; and Jennifer Hargraves, Hartford;  seven great-grandchildren: Damian and Kalia Rash; Rowan, Kyle and Andrew Rash; and Nolan and Parker Marx; and two step great-grandchildren: Autumn and Grant Hargraves. One sibling, Robert (Kathleen) Nehm, also survives her.
In addition to her parents, she is preceded in death by her sister, June (late Edward) Redig, and her in-laws, Philip G. and Sophia L. (Thoma) Wagner.
A Mass of Christian Burial will be held at 6:00 pm at St. Lawrence Church (4886 Hay 175, Hartford), on Monday, January 11, with visitation (at the church only) beginning at 4 p.m. and concluding with the Funeral Liturgy at 6 p.m., with Fr. Davies Edassery SAC and Fr. Vernon Wagner, OFM Cap., brother-in-law of the deceased, presiding. There will be a private burial service at St. Matthias Parish cemetery the following day.
In lieu of flowers, the family is requesting donations be made to St. Jude Children's Research Hospital (www.stjude.org or 800-822-6344).
The family would like to extend a thank you to the staff at Cedar Community and to Doctors Muhammad Mian and Abhay Jella for the care they provided.