Washington Co. Republican Women donate to annual Christmas with the Vets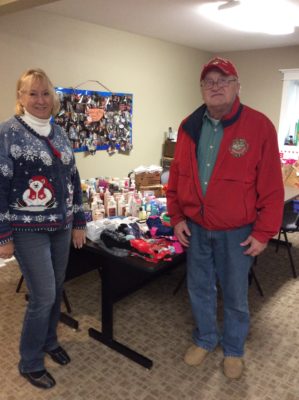 Dec. 2, 2016 – West Bend, WI – The 29th Annual Christmas with the Vets  will be held at the Zablocki VA Medical Center in Milwaukee on Dec. 10.
Vietnam Veterans Jeff (Doc) Dentice and Mike Lango started Christmas with the Vets in 1988.  They wanted to bring some holiday cheer to veterans at the VA Hospital.
Mike moved on to other endeavors in 1995 and Doc continued organizing and running the Christmas show.
Doc and fellow Vietnam vets are driving around the Milwaukee area picking up donations and Vietnam Veteran Wayne Cisewski from Fox Point came to West Bend on Thursday to pick up items donated by members of the Washington County Republican Women. 
Hats, scarves, gloves, holiday jewelry and socks, bath, beauty and personal care products and other items were donated.
Thanks to the Vietnam vets that put on the Christmas with the Vets each year and thanks to all of our veterans!
Merry Christmas from the Washington County Republican Women.
Washington County Republican Women is an organization founded in 1995 to advance the principles of good government through Republican principles. 
More information is at wcrwomen.org