Washington Co. Trail Sharks battle heat, hills and aggressive mosquitoes | By Julie L Willmas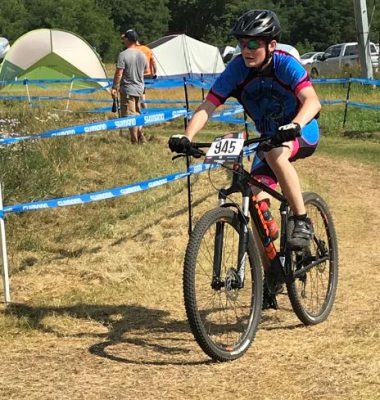 Mikey Spangenberg coming in on his first lap.
Sept. 18, 2018 – Washington, Co., WI – The Washington County Trail Sharks were in Mt. Morris at Nordic Mountain over the weekend.  The day consisted of blazing heat and swarming mosquitoes.
The riders and fans worked hard to be ready for their race by applying tons of bug spray before they headed into the woods.
The course was sandy, rocky, and hilly, but each athlete worked hard on conquering the course.
Here is how the Trail Sharks ended the day.  The team kept its 8th place finish (out of 40 D2 schools) from the last race in Waukesha.
Kendra Schmitt and Anja Lanser came home with another medal.
Watch for us in two weeks as we head to Nine Mile in Wausau.
Top 10 finisher….
Kendra Schmitt (Kewaskum) 1st 26:46
Anja Lanser (West Bend) 5th 29:20
Fiona Shaw (West Bend) 9th 32:46
Gabe Rogaczewski (Slinger) 8th 28:10
Quentin Willmas (West Bend) 28th 28:33
Nick Vogel (West Bend) 69th 37:53
Brandon Paulson (Slinger) 26th 40:58
Skyler Schmitt (Kewaskum) 14th 48:06
Mikey Spangenberg (West Bend) 14th 50:41
Nick Skaalen (Hartford) 23rd 52:21
Tony McArthur (West Bend) 19th 53:48
RJ Goldberg (Hartford) 24th 56:21
Tanner Schultz (West Bend) 33rd 59:28
Kritika Gupta (West Bend) 11th 1:14:14
Ethan Janssen (Mayville) 12th 1:06:06
Sam Carlson (West Bend) 37th 1:24:56
Nick Niemi (Elkhart Lake) 13th 1:19:57
Hunter Schmitt (Kewaskum) 19th 1:28:13