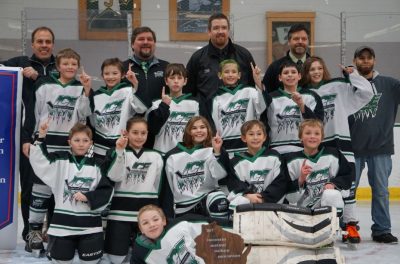 March 9, 2017 – West Bend, WI – The Washington County Ice Squirt C team won the Wisconsin Amateur Hockey Association Squirt 2C State Championship.
On Sunday, March 5 the Ice defeated Kenosha 5-4 in sudden-death overtime in the first round then it defeated DePere 4-3 to advance to the championship game.
The game-winning goal was scored in sudden-death overtime to defeat Fox Valley 3-2 to claim the title.
"The kids never gave up and came together to accomplish a goal they set," said head coach Greg Petermann. "Coming back in the third period in each of the three games shows what kind of heart the kids have. I'm very proud of this group of players for their hard work and dedication."
Washington County hosted this year's Squirt 2C tournament and the t

wo-day event drew more than 400 people from around the state, 
according to Brandon Bayer, Manager, Kettle Moraine Ice Rink. "We're very proud of our home team as well as all the hockey families who participated and volunteered to host this event," he said.

Pictured are: (From L to R) Back row: Coach Florian Wisinksi, Coach Russ Farrell, Coach Greg Petermann, Coach John Aspenleiter, Coach Dan Mojica; Second row from back: Cooper Petermann, Elijah Aspenleiter, Joshua Flasch, Ian Zehetner, Alex Wisinksi, Carter Rose; First row kneeling: RJ Farrell, Sawyer Stein, Skylar Mojica,  Teague Ast, Jacob Alexander; In front Goalie Gage Ratzel.