Welcome American Commercial Real Estate | By Emily Liddicoat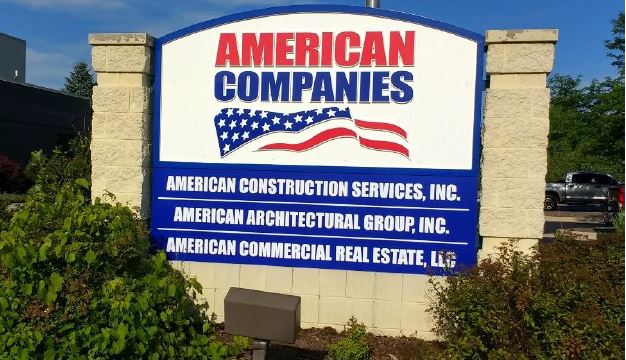 August 20, 2018 – West Bend, WI – A new business sign is in place at 3350 S. River Road in West Bend.  The address may be familiar because for over a decade, American Construction Services and American Architectural Group have made this building their home.
What is different on the sign is a new tier to the American Companies family, American Commercial Real Estate (ACRE).  Along with architecture and construction American Companies has now expanded to offer a full service brokerage firm.
American Companies was founded in 1980, and last month, Adam Williquette and Jo Sadownikow formed ACRE.
Williquette was most recently Senior Vice President of Anderson Commercial Group. "After 15 years, it was time to get rid of the drive to Milwaukee every day," he said.  "Opening a home base in West Bend will add 300-400 hours per year so I can better serve my clients here in Southeastern Wisconsin.  I grew up in West Bend, and even though I work all over the state, my involvement in the community has naturally made most of my clients and customers come from the Washington and Ozaukee county areas."
Williquette specializes in investment real estate, acquisition and disposition, leasing and sales of commercial property, ground-up development, and property management.  He has also been an investor/buyer of several industrial, retail, multi-family, and hospitality properties in Wisconsin.
Prior to co-founding ACRE, Jo Sadownikow oversaw all aspects of administrative responsibilities at American Companies.  She is also involved in the development and investment side of the organization.
Sadownikow brings over 20 years of commercial real estate and property management experience to ACRE.  She has specialized in managing Commercial, Office, Retail, and Industrial properties in Southeastern Wisconsin. Sadownikow has a background in mortgage banking.
"I have enjoyed focusing mainly on property management since becoming a broker in 2001," said Sadownikow.  "I have especially enjoyed getting to know so many great people in our community.  I am very excited to continue to serve many of those same people by providing a complete package of commercial real estate services."
ACRE is Washington County's only full-service brokerage firm skilled in assisting with office, commercial, industrial, retail, and land transactions.  ACRE serves both individual and business clients and is equipped to help with commercial buying, selling, or leasing needs.
Our professionals use their expertise, intimate local knowledge, and exceptional business relationships to ensure our customer's complete satisfaction.

For more information regarding ACRE click HERE to visit the company website.