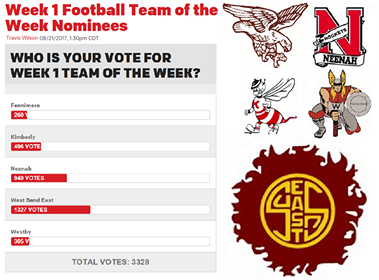 August 24, 2017 – West Bend, WI – Congrats to the West Bend East Suns football team as they officially are your WisSports 2017 Team of the Week for week No. 1.
 The Suns won the award by a decisive margin.  Good luck to them as they continue their quest toward a conference championship in their maiden year in the North Shore Conference for football.
The West Bend East Suns have been selected as the Week 1 Team of the Week following a statewide vote on WSN.
The Suns eclipsed Cedarburg in a North Shore Conference upset.
A total of 3,328 votes were cast, as West Bend East's 1,327 votes edged Neenah's 940.
Perhaps it is only fitting with the solar eclipse getting so much attention this week, that the Suns of West Bend East played some dominating football on Friday night.
The team has struggled the last few years and hasn't made the playoffs since the 2011 season.
Meanwhile, Cedarburg is a perennial playoff entrant.
You'd have thought those roles were reversed, as West Bend East put a running clock on the Bulldogs in a 48-6 domination.
The team rolled up 332 rushing yards, as both Kyle Yochem (168) and Christian Hernandez (107) eclipsed the century mark.
Quarterback T.J Simpson hit on some huge plays, completing 8 of 14 passes for 165 yards and 2 touchdowns.
Remember folks, the only way your favorite team can be named WSN Team of the Week is to vote and share the word!
Graphic courtesy Tom Hoffmann