October 6, 2022 – West Bend — West Bend East and West Bend West students last week voted for students to represent their respective classes on the homecoming court for each school.
On Friday, October 7, the courts will be honored and the homecoming king and queen for each school will be named at a Pep Assembly at the high schools. Also on Friday, they will ride in the Homecoming Parade at 4:15 p.m. and be honored at halftime of the East vs West football game.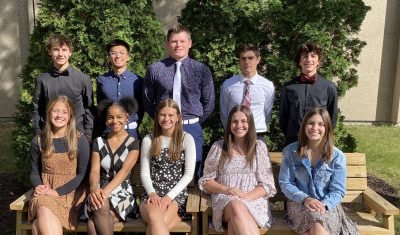 Members of each homecoming court include:
West Bend East
Aiden Grant and Shealyn Jablonski (freshmen)
Brock Deist and Mikayla Schroeder (sophomores)
Roger Dang and Jayanie Lewis (juniors)
Andrew Barker and Ava Tolfa (seniors)
Sawyer Lichtensteiger and Grace Cleven (seniors)
West Bend West
Noah Becker and Kaylie Saric (freshmen)
Max Geiger and Avah Metz (sophomores)
Cameron McAndrews and Kaitlin McFarland (juniors)
Marcus Landry Jr. and Lacee Justman (seniors)
Diego Prescott Sa'Maia Evans (seniors)
East Photo Order (above)
Top row left to right: Aiden Grant (fr); Roger Dang (jr); Sawyer Lichtensteiger (sr); Andrew Barker (sr); Brock Deist (soph). Bottom row left to right: Shealyn Jablonski (fr); Jayanie Lewis (jr); Grace Cleven (sr); Ava Tolfa (sr); Mikayla Schroeder (soph).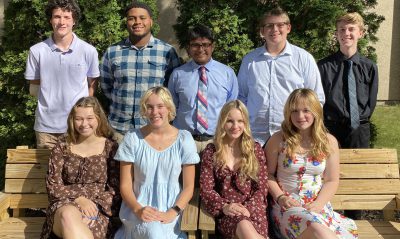 West Photo Order
Top row left to right: Cameron McAndrews (jr); Marcus Landry Jr. (sr); Diego Prescott (sr); Max Geiger (soph); Noah Becker (fr). Bottom row left to right: Kaitlin McFarland (jr); Lacee Justman (sr); Avah Metz (soph); Kaylie Saric (fr). Not Pictured: Sa'Maia Evans (sr).