West Bend Police Department Monthly Report to the Community. By Chief Kenneth J. Mueller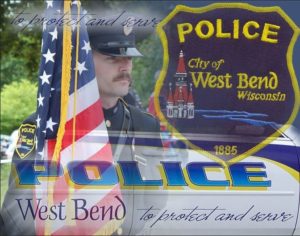 March 16, 2017 – West Bend, WI – During January, 2017 the Police Department investigated a number of thefts from unlocked vehicles. Late in January, investigators identified and arrested an adult male and an adult female that were responsible for 10 of those thefts. While those arrests have slowed the reports of theft from vehicles, we continued to experience thefts. In almost every case, the vehicles were unlocked. While West Bend is a very safe community overall, we unfortunately have subjects that have no respect for the lives and property of others.
When it comes to property crimes, many times they are crimes of opportunity. Like many of us, thieves look for the easiest way. Auto thieves look for keys in unlocked cars, burglars look for the easiest way into a home or business, and persons that steal from autos most often steal from unlocked autos.
So, as yours truly learned a couple years back – lock the doors to your homes, garages, and vehicles. This is especially true as the weather warms up. (I know, that seems like a long way off, but Opening Day is just three weeks away.)
Stay safe, and I hope to see you in the community.
Kenneth J. Meuler, Chief of Police
About Author
West Bend Police