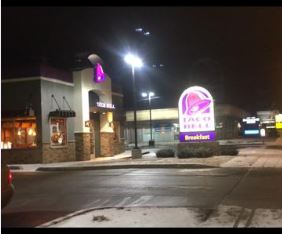 Feb. 18, 2018 – West Bend, WI –  On Saturday, Feb. 17, 2018, at 2:18 a.m. a citizen called the West Bend Police to report a fight at the drive thru of the Taco Bell Restaurant, 1307 S. Main St.
When police arrived a witness reported there was an argument between individuals in two cars in the drive thru. During the argument, a 38-year-old man removed a handgun from one of the cars, made threats and fired one shot.
No one was struck by the bullet or injured.
Police arrested the 38-year-old suspect and charged him with 1st Degree Recklessly Endangering Safety, Endangering Safety by Use of a Dangerous Weapon, and Operating Auto while Intoxicated.
Police arrested a 27-year-old man that was with the suspect and charged him with Disorderly Conduct. Police recovered the handgun that was fired. The 27 year old was the legal owner of the gun.