February 4, 2020 – West Bend, WI – Just a day after WashingtonCountyInsider.com broke the story about West Bend School Superintendent Don Kirkegaard looking to return to his former school district and expressing interest in the interim superintendent position in the Meade School District the story got picked up by Rapid City Journal in South Dakota.
Reporter Jim Holland writes:
STURGIS | Former Meade 46-1 superintendent of schools Don Kirkegaard has offered his services as an interim superintendent of the district, following the release of current superintendent Jeff Simmons in January.

Kirkegaard also confirmed he had contacted the Meade 46-1 Board of Education about the superintendent's opening, but only in an interim capacity. "If you decide you're going to do an interim (superintendent). I would be interested in being considered," Kirkegaard said.

"If you're going to do a full-fledged search, I will do everything I can to help you get the right candidate, but I'm not going to re-apply for the position," he said.

Dennis Chowen, president of the Meade 46-1 Board of Education, confirmed Tuesday that Kirkegaard had contacted the board the day after a Jan. 13 meeting in which the board and Simmons announced a mutual agreement of his release from the remainder of his three-year contract.

"He (Kirkegaard) has certainly expressed interest, but the board, at this time, hasn't officially made any statement one way or the other whether he's going to be offered …  Click HERE to read the rest of the story.
Kirkegaard started in West Bend in July 2018 after a search firm, McPherson & Jacobson, LLC, was hired by the school board to find quality candidates. The district also held stakeholder meetings.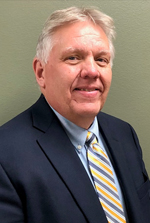 Kirkegaard came from South Dakota. He said he and his wife Lois are returning to the home they built in the Black Hills. "We did not sell our house in the Black Hills," said Kirkegaard. "We kept it with the idea that we knew that's where we would retire."
Kirkegaard is 62 years old and spent 60 years in South Dakota.
Kirkegaard's last day in West Bend School District will be June 30, 2020.
The West Bend School District will now have five superintendents over the last four years. Kirkegaard was hired after former Superintendent Erik Olson submitted his resignation December 14, 2017. Olsen was hired June 2016. The School Board approved a two-year contract with Olson at a salary of $155,000. In 2017 that contract was extended another two years. The payout to Olson was about $300,000.
Prior to Olson, Ted Neitzke served as superintendent from 2011 – June 2016 when he resigned and Laura Jackson served as interim superintendent after Olson left and prior to Kirkegaard.
Cover photo courtesy Rapid City Journal.