West Bend Sunrise Rotary names recipient for $15,000 Give-Away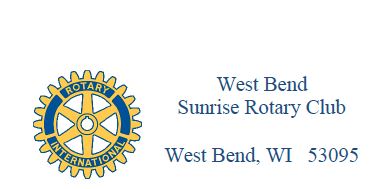 Feb. 21, 2018 – West Bend, WI –  The West Bend Sunrise Rotary Club has selected the grant recipient for its spring 2018 $15,000 Give-Away fundraiser.  The event will be May 24 at West Bend Mutual Insurance Company's Prairie Center.
The $15,000 Give-Away is designed to help one or more not-for-profit charitable 501(c) (3) organizations in the West Bend area through a $10,000 grant. The objective of the award is to assist the organizations accomplish a creative project or begin a new service. Recipients may not use this award for profit-making, administrative costs, or staff salaries or benefits.
Criteria for selection included the ability to provide a unique service not widely available in the community; the impact the project would have on an underserved portion of the local community population; and meeting Rotary's 4-Way Test:
(1) Is it the Truth?
(2) Is it Fair to all concerned?
(3) Will it build Goodwill and Better Friendships?
(4) Will be Beneficial to all concerned?
Family Promise of Washington County is this yer's recipient. The organization helps homeless and low-income families and individuals in Washington County achieve sustainable independence.   They provide food, shelter, support services and case management.  They also provide advice and advocacy for our clients to prevent their becoming homeless with the goal to help people stabilize their lives, gain employment, and secure permanent housing.
Since June of 2016, there has been no shelter option available in Washington County for homeless men and women who are single and do not have dependent children. The Emergency Shelter and Housing Project will address this dangerous gap, bringing together shelter, meals, basic health services, and quality case management for individuals at risk of homelessness in Washington County.  A new Shelter building is under construction and scheduled to open in February, 2018.
The Emergency Shelter and Housing Project is expected to serve 85 – 100 individuals annually who are literally homeless in Washington County.
Family Promise will use the grant to cover the cost of a security system for the new shelter building.  This system is essential to the safety and security of both clients and staff members.
Tickets for the $15,000 Give-Away are available from Sunrise Rotary club members and from Family Promise of Washington County.  Cost is $100 per ticket, which entitles the bearer to a dinner for 2 (including drinks), the opportunity to win cash and prizes, and also participate in a silent auction and dessert auction the evening of the event. Individuals and organizations interested in supporting the event by purchasing tickets and/or donating items for the silent auction should contact Todd Vance at 262-343-6184 or Candy Sarauer at 262-689-9569 or email at [email protected] or [email protected]
About West Bend Sunrise Rotary Club:
Originally chartered in 1990, West Bend Sunrise Rotary Club meets weekly for fellowship, breakfast, and an informative and interesting presentation from a guest speaker every Tuesday at 7:15 a.m. at the New Perspectives Senior Living center in West Bend.  The Club's major fundraisers are the $15,000 Give-Away to benefit one or more local not-for-profit organizations; the Enchantment Raffle and joint fundraising with other Washington County Rotary Clubs through Enchantment in the Park, an animated holiday light show and Santa's Village which raises food and funds for the Washington County food pantries.  For more information see the Sunrise Rotary Club website at www.westbendsunriserotary.org.
About Rotary International:
Rotary is an organization of business and professional leaders united worldwide who provide humanitarian service, encourage high ethical standards in all vocations, and help build goodwill and peace in the world. In more than 160 countries worldwide, approximately 1.2 million Rotarians belong to more than 30,000 Rotary clubs.
Rotary club membership represents a cross-section of the community's business and professional men and women. The world's Rotary clubs meet weekly and are nonpolitical, nonreligious, and open to all cultures, races, and creeds.
The main objective of Rotary is service — in the community, in the workplace, and throughout the world. Rotarians develop community service projects that address many of today's most critical issues, such as children at risk, poverty and hunger, the environment, illiteracy, and violence. They also support programs for youth, educational opportunities and international exchanges for students, teachers, and other professionals, and vocational and career development. The Rotary motto is Service Above Self.
Although Rotary clubs develop autonomous service programs, all Rotarians worldwide are united in a campaign for the global eradication of polio. In the 1980s, Rotarians raised US$240 million to immunize the children of the world; by 2005, Rotary's centenary year and the target date for the certification of a polio-free world, the Polio Plus program will have contributed US$500 million to this cause. In addition, Rotary has provided an army of volunteers to promote and assist at national immunization days in polio-endemic countries around the world.
Find out more about Rotary by visiting the Rotary International website at http://www.rotary.org/en/Pages/ridefault.aspx.