June 27, 2019 – Dodge Co., WI – Motorists who commute west on Highway 33 into Horicon, Mayville and Beaver Dam will have some good news on Friday, June 28 as it's expected the road will be open as work on the roundabout at County P is nearly complete.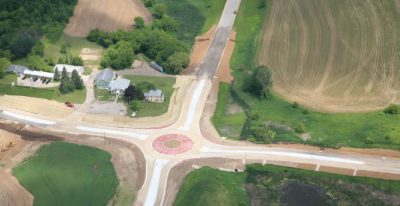 Dodge County Assistant Highway Commissioner Peter Thompson said "if weather stays favorable the roundabout at WI-33 and County Road P could be open by Friday, June 28."
Thompson sent out an email Wednesday, June 26 with an update on construction.
Subject: RE: STH 33 and CTH P roundabout
As of today, the DOT inspector is expecting this intersection to reopen to traffic sometime mid-day Friday.

There is still work to do and it must all be done before opening.

Ryan Arndt, inspector, will email Dispatch when it is officially open

There will be Portable Message Boards on STH 33 in each direction warning of the new traffic pattern.

They will be up for about one week

Pete Thompson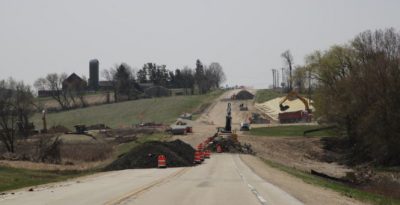 Finally at 4:11 p.m. on Thursday, June 27 the message below was sent by Thompson.
According to the inspector, Ryan Arndt, this road will reopen to traffic approximately noon tomorrow.

Pete Thompson
The $1.5 million roundabout project began April 15, 2019. It had a target completion date of July 3, 2019.
According to the DOT – Project overview
The project proposal is to reconstruct the intersection of WIS 33 and County P to a roundabout in order to reduce the history of fatal/severe injuries type crashes. The project is being funded through the Highway Safety Improvement Program (HSIP).

Dating back to 2013, multiple attempts have been made to improve safety at the intersection of WIS 33 and CTH P with signing including overhead stops, flashing beacons and warning signs. The improvements have proven insufficient as four more crashes were recorded in 2015. Due to the continuation of crashes, the intersection was converted to all-way stop controlled (AWSC) in late 2015 as a temporary measure before reconstruction of the intersection.
Photo courtesy 511 Wisconsin Travel Info