Xpressions Yarn, Bead, & Gift Boutique in downtown West Bend is moving
Feb. 11, 2019 – West Bend, WI – Xpressions Yarn, Bead, & Gift Boutique, 264 N. Main Street, in downtown West Bend is relocating.
"I'm moving to the WB Merchantile, 258 N. Main, right down the street," said owner Andrea Gundrum Cybell.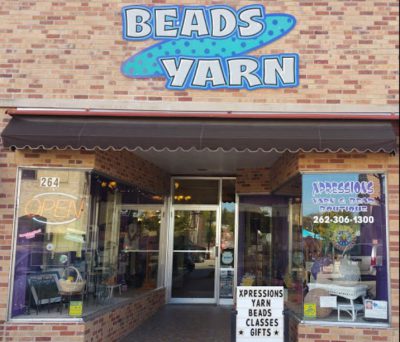 "It was a blessing in disguise and I'm really excited as are they."
The move will take place from March 5 – 15.
This will be Gundrum Cybell's third move.  For about 10 years she was in Barton at 1779 Barton Avenue and then seven years at current location.
The move was prompted after a sale of the store fell through in 2017.
"I love my business and my accountant advised we not close but downsize and look for a smaller location," she said. "The space at WB Mercantile came up with Jeremy and Brandy and now I'm very reinvigorated and this is going to work out so well for everyone."
Gundrum Cybell said she will be offering new classes and carrying some new products including Door County wine.
Stay tuned!