Allenton Fire Department hosts special Railroad Incident Response Class. By Ron Naab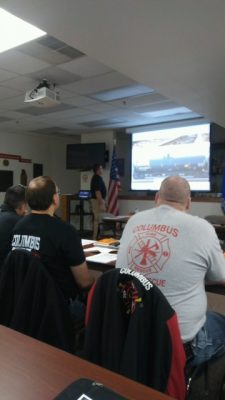 March 29, 2017 – Allenton, WI – Six emergency response agencies participated in a course this month at the Allenton Fire Department regarding Transportation Rail Incident Preparedness & Response: Flammable Liquid Unit Trains.
The program was presented by Aaron Droessler with the Wisconsin Emergency Management.
During the 8-hour session, students learned a "unit train" is a train with a minimum of 100 cars all carrying the same product, i.e. crude oil.
There are two types of Crude Oil: Sweet Crude, which has low Hydrogen Sulfide toxic gas but highly combustible.
The other type is Sour Crude, which has very high toxic levels of Hydrogen Sulfide with a much lower flammable point.
There were approximately 2,900 plus tanker loads of crude oil that passed through Allenton in 2016 using the Canadian National Railway.
Participants learned that with the addition of Crude Unit Trains, the Department of Transportation created a new standard for the construction and type of container used to transport crude oil by rail.
The U.S. D.O.T. also took on the responsibility to educate those that are first responders to crude oil incidents.
Safety for the responders and those within a half-mile area are critical.
They learned there are times it may be safer for all involved to allow the crude oil to burn up; the inferno will be so intense there is no tactic to get ahead of it.