November 11, 2019 – West Bend, WI – The West Bend Sunrise Rotary took home a number of awards during the Rotary District Foundation Dinner held at the West Bend Country Club.
Steen Sanderhoff, Rotary District Governor for 2019-2020, presented a number of awards including the Presidential Citation. Rotarian Candy Sarauer accepted the awards.
Rotarian Mary Beth Siser detailed the awards.
100% Foundation Giving Club — for clubs with an average of $100 per capita giving and 100% participation with every member giving at least $25 to any of the foundation categories: annual fund, polio, global grants or endowment fund.
Every Rotarian, Every Year – clubs with a minimum Annual Fund contribution of $100 per capita with every member contributing at least $25.
Number 3 in the district in per capita contributions – we came in at $208.85 per capita (Mequon-Milwaukee After hours was No. 2 at $212.35, and Elkhorn No. 1 at $270.36)
Presidential Citation – we were one of only eight of the 54 clubs in Rotary District 6270 that received it last year. The District covers southeastern Wisconsin.
According to Rotary International the citation is given "for achieving goals that strengthen Rotary and the club. Goals include increasing club membership, developing sustainable service projects, giving to The Rotary Foundation, and building awareness of Rotary in your community."
Congratulations to Candy Sarauer for leading the club to achieve these goals as 2018 president.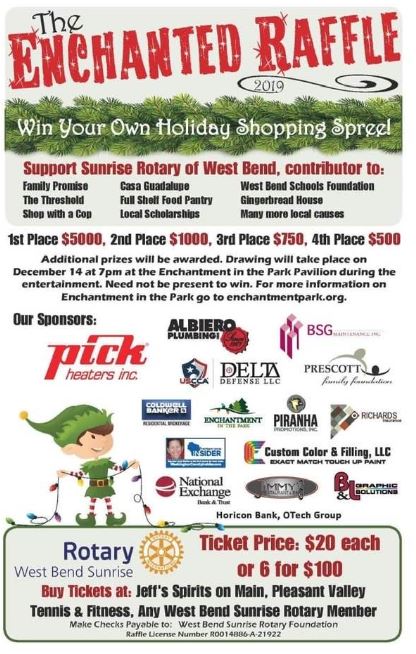 The West Bend Sunrise Rotary is doing a Food Drive at the West Bend Christmas Parade.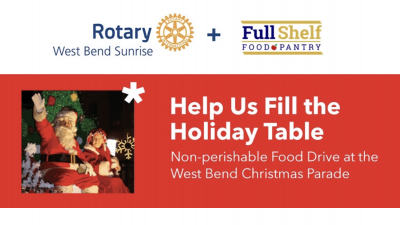 The parade starts at 5 p.m. on Sunday, December 1. The Sunrise Rotarians will be marching in the West Bend Christmas Parade collecting non-perishable food items for the Full Shelf Food Pantry. Please bring food items to share so that we can fill the holiday table for many in our county who could use a helping hand.