March 11, 2017 – West Bend, WI – Crimson Cowl Comics and Collectibles is opening at1749 Barton Avenue next to Revive Salon Studios. David Gloyd, Curt Schoob and some of their muscular cohorts (friends… not superheroes – at least not that they know) helped heft boxes full of thousands of comics last Sunday. "We're excited to be joining the Barton business community," said Gloyd. A grand opening is Saturday, March 11.
–Congressman Jim Sensenbrenner has a series of town hall meetings coming up in Washington County. On Saturday, March 11 the Congressman will be at Germantown Village Hall at 9 a.m. Sensenbrenner will be at Hartford City Hall on Sunday, March 12 at 1 p.m.,  West Bend City Hall on Saturday, March 18 at 9 a.m. and Richfield Village Hall on Sunday, March 19 at 1 p.m.
–The Kettle Moraine YMCA Dynamites Gymnastics team is hosting the state meet in West Bend this weekend, March 11 and 12. This is an annual event that rotates between all of the Wisconsin YMCAs that have a competitive gymnastics team.
– Paul Backhaus was presented the 2016 Slinger Firefighter of the Year Award at the Slinger Firefighter annual banquet. Backhaus joined the Slinger F.D. in March 2014. He is currently a firefighter with designations of motor pump operator, rapid intervention team.
-Groundbreaking is March 17 for the 911 memorial in Kewaskum.
– The West Bend Korean War Veterans Post 111 will be hosting a brat fry on Friday and Saturday, April 7 and 8.  The brat fry will be held, 1421 W. Washington Street, from 9 a.m. to 4 p.m.  Proceeds will go to the Honor Flight Program, The National Flag Day Foundation and other veterans' programs.
-The city of West Bend will be hosting Loyalty Day in 2017.  The event will feature a parade Saturday, April 29.  Loyalty Day is observed nationally. All VFW Posts are invited to take part.
-Delta Defense/USCCA has moved into its new headquarters on Freedom Way off Corporate Center Drive in West Bend.
-Preliminary signs of a pending remodel can be seen at Pick n' Save south on S. Main Street in West Bend. Some shelves are being emptied and pallets of items are on sale. Watch for the floral department to be moved to the entryway by produce. In January, WashingtonCountyInsider.com reported the remodel was part of the intended restructuring Kroger had in mind following its $866 million acquisition of Roundy's Supermarkets in Dec. 2015.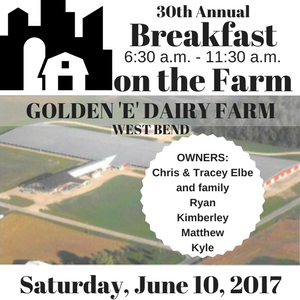 -The 30th annual Washington County Breakfast on the Farm is Saturday, June 10 at the Golden 'E' Dairy Farm on 8262 Orchard Valley Road, in the Town of Farmington.
-The Kettle Moraine Geological Society (KMGS) is holding its 55th annual show March 11 and 12 at the Washington County Fair Park. The event features club speakers, demonstrators and a variety of displays. For schools, the KMGS is a valuable resource for earth-science curriculum.
-The Washington County Ice Squirt C team has won the Wisconsin Amateur Hockey Association Squirt 2C State Championship.