March 13, 2020 – Washington Co., WI – A $500,000 cash bond has been set in Washington County Circuit Court for a 50-year-old Town of Kewaskum woman in connection with the death of a 43-year-old man this week at a home on County Highway H.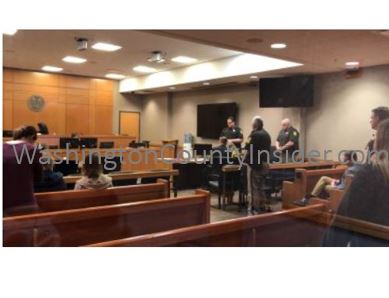 According to reports from the Washington County Sheriff's Department the woman was arrested Monday, March 11 for the alleged homicide of her husband. The death reportedly occurred during a domestic dispute.
During the bail hearing Judge Todd Martens said "there was probable cause" that the woman did "commit a crime."
In an effort for the state to finalize its charging decision the next hearing will be March 27 at 11:15 a.m.
No charges were issued during the Friday, March 13 court appearance.
According to the Washington County Sheriff, deputies were called to the home on Wednesday, March 11, 2020, at 9:20 a.m. after receiving a 911 call from the suspect.  The suspect was arrested at the scene without incident.  The deceased victim was located inside the home by the first responding officers. The preliminary investigation suggests he suffered a stab wound during the altercation.
The woman accused in the case is currently being held at the Washington County Jail.
The Sheriff said the incident is still under investigation as they await the results of the autopsy.
The sheriff's office requested charges of 1st-degree intentional homicide.
"Our office has been working closely with the Washington County District Attorney's Office to maintain the integrity of the investigation," said Sheriff Martin Schulteis.
The sheriff's office would like to thank the Kewaskum Police and Fire Department, the Wisconsin State Patrol and the Washington County Medical Examiner's Office for the assistance in this investigation.