Celebrating President Trump's First 100 Days. By Rep. Bob Gannon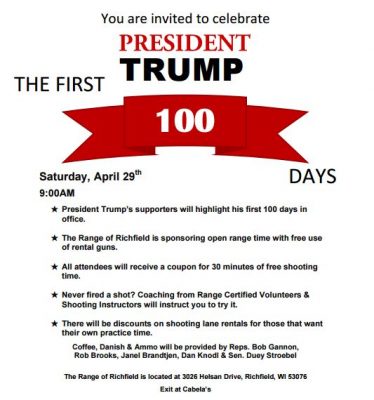 April 28, 2017 – Richfield, WI –  Saturday April 29 at 9 a.m. at the Range of Richfield, 3026 Helsan Drive in Richfield, there will be a short program and press conference as Republicans and President Trump supporters gather to celebrate the first 100 days of the Trump Administration.
Speakers are expected to discuss topics that concern most Americans and the issues that President Trump campaigned on, including a Supreme Court Justice who will respect the U.S. Constitution, as well as rolling back regulations that were killing jobs and industry, and making America respected again in the world by standing up to dictatorial regimes that are gassing their citizens.
We expect this program to conclude no later than 10 a.m. Guests are encouraged to then head over to the Loyalty Day activities in West Bend as we join our veterans in celebrating their sacrifices in order to keep America safe.