June 24, 2019 – Dodge Co., WI – A roundabout project started April 16 at County Highway P and State Highway 33 is on track to open by July 3.  Photos taken Saturday, June 22 show blacktop is down; remaining work includes shouldering, paint striping and sign installation.
The Dodge County Highway Department and Wisconsin Department of Transportation said multiple crashes at the intersection prompted installation of the roundabout after highly visible stop signs did not work to curb accidents.
The project is being funded through the Highway Safety Improvement Program (HSIP).
The DOT reported at a 2016 public meeting the intersection was among the top five percent most dangerous intersections in the state based on severity, number and type of crashes.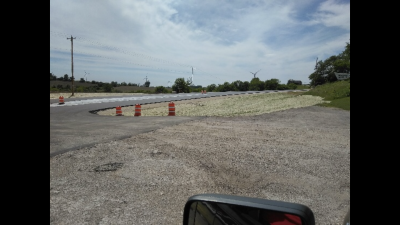 The DOT reported from January 2011 to May 2016 there were 28 accidents at the intersection including one fatal crash, 19 crashes with injuries, and eight involving property damage. Of the 28 crashes, 23 of the accidents occurred at a 90-degree angle.
Drivers are reminded NOT to drive through the intersection until the road is officially opened and the detour has been removed.  Dodge County Sheriff Dale Schmidt said those who have not abided by the road closure have experienced large fines.