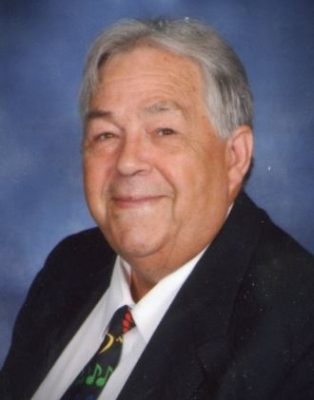 April 29, 2017 – Kewaskum, WI – Larry E. Ammel, 73, of Kewaskum, passed away unexpectedly on Sunday, April 16, 2017, at his home after spending a blessed Easter weekend with his family.
Larry was born on January 30, 1944, in Almond, the son of the late Harvey and Kathleen (Mehne) Ammel. On August 12, 1967, he was united in marriage to Cheryl Pagel at St. John's Lutheran Church in Almond.
Larry graduated from Almond High School in 1962 and UW-Stevens Point in 1967.  He began his teaching career at Kickapoo High School in 1968 and moved to Kewaskum in 1973.  He served as the high school band director and advisor to a large number of student groups in Kewaskum until his retirement in 1999.
He was an active member of the Kewaskum community serving on the village board, Kiwanis Club, American Red Cross, Big Band, Kettle Moraine Symphony and the Kewaskum Area Arts Council.  He served as Choir Director at Peace United Church of Christ for over 30 years, where he directed the chancel choir, women's choir and men's choir.   He was instrumental in the formation of the  local group, the "Ecumen," a men's choir consisting of men from multiple communities and denominations.
In the days since his passing his family has been contacted by many of his former students, expressing not only their condolences for his passing,  but sharing how he touched their lives in meaningful and irrevocable ways.  They described his role as their teacher and mentor citing how "Mr. Ammel" was the one that listened, encouraged, and believed in them when they needed it most.
Those Larry leaves behind to cherish his memory include his wife, Cheryl; two children, Curtis Ammel of Wauwatosa and Krysten (Mac) Schroeder of Oregon, Wisconsin; two grandchildren, Abigail and Quinn Schroeder; two brothers, Jerry (Julia) Ammel and John (Debra) Ammel both of Almond; a sister, Diane Ammel of San Diego; a sister-in-law, Lorrie Ammel of Almond; nieces, nephews, other relatives and friends.
In addition to his parents, Larry was preceded in death by a son, Derek Ammel; a sister, Ellen (Raymond) Plummer; a brother, Richard Ammel, and his aunt, Glenna (Lee) Schwenn.
Funeral services from Larry will be held at 11:00 a.m. on Saturday, April 29, 2017, at Peace United Church of Christ, 343 First Street, in Kewaskum, with Rev. Eric Kirkegaard officiating.
Larry's family will greet relatives and friends at the church on Friday, April 28, 2017, from 4:00 p.m. until 7:00 p.m. Visitation will continue at the church on Saturday from 9:00 a.m. until the time of service.
In lieu of flowers, memorials can be sent to Peace United Church of Christ, KEYS (Kewaskum Youth Scholarships Inc.) or Kewaskum Public Library Foundation.
The Myrhum Patten Miller and Kietzer Funeral Homes have been entrusted with Larry's arrangements.