Jackson and Hartford authorities report similar attempted robberies by similar suspect | By Jackson Police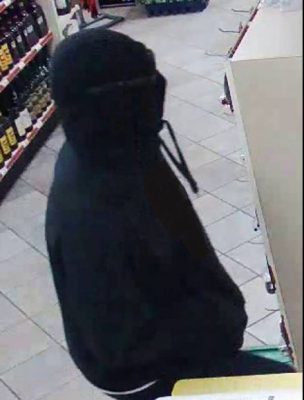 March 5, 2018 – Washington Co., WI – Strong Arm Robbery at Convenience Store – A man dressed in black attempted to rob a Jackson convenience store early Monday morning.
According to Jackson Police the suspect entered the store, located at the corner of Main Street and Glen Brooke Drive, at about 5:45 a.m., went behind the counter, and attempted to open the register.
When the clerk tried to intervene, the suspect shoved her, vaulted the counter, and fled on foot.
It's believed the suspect fled southeast, hopped a fence, and got into a vehicle in a nearby residential neighborhood. No weapon was shown or implied. No cash was stolen.
The suspect was described as 6'4"-6'6" with a slim build, wearing a black hooded sweatshirt, full face mask, sunglasses, gloves, and black athletic-style pants.
About an hour later, a similarly dressed suspect displayed a knife and attempted to rob a Hartford convenience store.
Attempted Armed Robbery Hartford
03-05-18
On Monday, March 5, 2018, at approximately 6:54 a.m., an unknown male subject entered the Petro Quick Mart at 1502 E. Sumner Street in Hartford displayed a knife and told the clerk they were there to rob the gas station.
The clerk refused to comply with the subject's demands and armed himself with a hammer, and approached the suspect. The suspect then left the store, and the clerk followed.
The two subjects had a brief physical altercation outside the store, before the suspect broke away and fled to a vehicle that was parked behind the gas station. The subject then drove eastbound from the scene.
The suspect is described as approximately 6'04", 180-190 pounds, with a thin "skinny" build. The subject was dressed from head to toe in black clothing and wore gloves and a mask. The suspect vehicle was dark in color, 2 door sedan, possibly a Lincoln.
The 53-year-old clerk received a minor scratch on his hand during the struggle, but it is not believed that the injury was caused by the suspect's knife. The clerk refused medical attention for his injuries. It is not known if the suspect received any injuries during the altercation. No money was taken during this incident.
This investigation is ongoing at this time. Anyone with information regarding this incident should contact the Hartford Police Department at (262)673-2600, or on-line at Callers can also remain anonymous by calling the Washington County Law Enforcement Tip Program at (800)232-0594.
Jackson police were assisted by Washington County deputies and the K9 unit from the Waukesha County Sheriff's Office.