Kettle Moraine Lutheran vs. Kenosha Reuther. Tip off at 7 p.m. By Jacob Moeller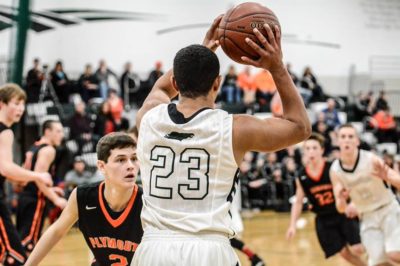 Feb. 28, 2017 – Jackson, WI Kettle Moraine Lutheran opens its march to state tonight at home against Kenosha Reuther.
The Bulldogs finished the season with an 8-14 record, going 4-6 in the Indian Trails-Blue Conference.
Senior Ja'Quan Terrian has been Reuther's star man this season, averaging 18.5 points, 6.7 rebounds, and 3.6 assists.
KML's Joey Behm has been potent on the offensive end all year, averaging 16 points and 3.7 rebounds to lead the Chargers to a 10-12 record.
A deadly shooter from range, if Behm can get into a rhythm beyond the arc, it could be a long night for the Bulldogs. The game tips off at 7 p.m. at KML. The winner will continue the road to Madison with a matchup against either University School of Milwaukee or Tenor/Veritas.
Photo is of Tyler Precia, courtesy of Diane Behm